Stafford Hospital misdiagnosis death: Second inquest begins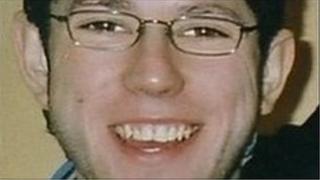 A second inquest has opened into the death of a hospital patient after a long-running campaign by his parents.
John Moore-Robinson, from Leicestershire, died in 2006 after Stafford Hospital staff failed to diagnose a ruptured spleen.
The first inquest returned a narrative verdict but Mr Moore-Robinson's family argued for a fresh hearing after new evidence came to light.
An internal hospital report found his treatment could have been negligent.
The 20-year-old telecommunications engineer, from Coalville, was taken to A&E at Stafford Hospital after falling off his bike on Cannock Chase.
'Definitely in pain'
He was discharged after staff diagnosed him with bruised ribs and collapsed at home hours later.
Coroner Catherine Mason told the new inquest, sitting in Leicester, that the findings of the original hearing had been quashed.
The court also heard from a friend who had been biking with Mr Moore-Robinson when the incident took place.
Andrew Turner told the coroner that when he saw Mr Moore-Robinson in hospital following the incident he looked "clammy, sweaty and definitely in pain".
He said his friend had been sick in a kidney bowl near his bed and that he was shocked when Mr Moore-Robinson told him he was going to be discharged.
"But I just thought, he's got bruised ribs. I thought he was fine. The professionals have taken charge," he said.
Mr Moore-Robinson had been riding with two friends when he was "catapulted" from the bike and the handlebars twisted, digging into him.
Andrew Hopwood, the paramedic who attended the scene of the incident, told the inquest he treated Mr Moore-Robinson's injuries as "potentially life-threatening".
He said he believed his patient could have injured his ribs, or that there could be an internal injury, as he was holding the area below his ribs.
The inquest continues.