Hillsborough stories: Graham John Roberts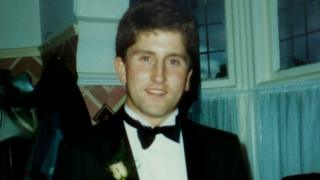 Graham John Roberts, a gas board engineer from Wallasey, Merseyside travelled by car with several friends, who survived
This is the full statement to the inquests from his sister, Sue Roberts:
I, Sue Roberts, speaking on behalf of the Roberts family, will say as follows in relation to my brother Graham John Roberts:
Graham was born in Liverpool on 5 May, 1964 and he was around three years old when we moved to live in Wallasey. He was 24 years old when he was killed at Hillsborough.
This May Bank Holiday, he should have been celebrating his 50th birthday.
Although I have written this myself, I am sharing it with you on behalf of both my parents too, as they are sadly no longer with me to do so.
'Caring son'
It is my belief that they are looking down on us all from heaven, along with my brother Graham, the other 95 victims of this awful day, and also the other parents, family members, friends and survivors who have passed away prematurely due to their torment caused by the loss and trauma of the last 25 years.
Graham was a life-long Liverpool Football Club supporter and a loving and caring son, brother, fiancé and friend.
He was a season ticket holder in the Kop for many years.
Everything Graham did throughout his life, he'd give 100% commitment to, and he'd do it with a willing heart.
He was a model pupil at school and a great all-rounder. He played for the football team and was in the top five of his year in both maths and English.
During our school days, Graham was a protective big brother. He would look out for me and it was always a great comfort for me to know he was around.
We went to the same infant and middle schools, Egremont Primary and Withensfield, and then Graham went to Mosslands Senior School.
I remember when I auditioned for a play at Withensfield. I was told they needed more males and was asked if I could try to persuade Graham to audition.
Graham was given the leading role of Ludo, the circus boy, and I was kindly given a role in the play too.
I was one of the crowd, a walk-on part. Graham put his heart and soul into learning his lines and mum and dad and I would play other roles to help him learn them.
Graham was a member of the ninth Wallasey Cubs and Scouts at Egremont Baptist Church. He particularly enjoyed camping and playing for their football teams.
I can remember one cold, wet and wintery mid-week night watching him and his Cub team in their tangerine and black kit, winning a cup final match at a local football playing field.
'Well liked'
Both my parents and I were so proud of him. He also played football for Broadway with school friends and for British Gas with his work colleagues.
I still have one of his t-shirts from when he played in a winning team in a British Gas tournament. Across the chest, it says, 'I'm a Wonderfuel person'.
Graham was so well liked by his Cub and Scout leaders that on leaving, he was asked if he would consider becoming a leader. I am sure this would have been something Graham would consider doing once he was married and settled in his first home.
Egremont Baptist Church was demolished in the late '80s and Serpentine Road Family Church was built on the site.
The new church opened in January 1989 and the flags for the uniformed organisations, which were made by our family friend, John Dooley, are dedicated to Graham and the other 95 who lost their lives at Hillsborough.
Sadly, Graham's was the first funeral held in our new church building.
Wallasey Scouts have an annual football competition named after Graham which they started around 1990 and they still play for the cup to this day.
'Loved sports'
Graham was a keen fisherman. He and his friends would get up early in the mornings to go off on their fishing trips of a weekend. Graham also enjoyed many fishing holidays in Ireland and Graham would often be the one to make them all a hearty cooked breakfast before they'd head out for their day's fishing expeditions.
Graham liked freshwater fishing. He had also tried sea fishing once or twice, but got so seasick that he had to lie down in the middle of the boat, so he never really took to that.
Graham left school at 16 years of age and served an apprenticeship with British Gas. Although only 24, he had already worked his way into a senior role with British Gas as an engineering supervisor.
He supervised teams of contractors working here in the Warrington area. We had many letters of condolence, some of them from the contractors he'd supervised, and they all spoke very highly of Graham. He was well respected for his knowledge, fairness and thoroughness.
Graham loved all sports, particularly snooker and football. He had his own quarter-size snooker table in our 'play room'.
For his Christmas present in 1988, he had the snooker table re-covered and seated on new legs.
'Thoughtful'
Graham and his friends spent many happy hours playing snooker at our house. They'd arrange their own tournaments between themselves.
They also played on full-sized snooker tables at the local snooker hall, Rocket Ronnie's.
Graham had a kind and generous nature. On starting work, he informed me out of the blue that he was going to give me pocket money.
He was only 14 months older than me, and I still think that it was such a lovely and thoughtful thing to do. Sometimes I would have to earn my money though.
He'd send me to collect and return his videos and occasionally he'd drag me out of bed to make tea and toast for him and his friends with the threat that, if I didn't, he'd stop my pocket money.
I have to confess, though, it was never really a chore, as I quite liked his friends anyway.
In 1986, my dad, Graham and I all got new cars within a few weeks of each other, all from the car salesman at the new Ford dealers near Ellesmere Port.
Graham got on XR3i, my dad a top of the range five-door Fiesta, and I got the no-frills, no-extras, two-door Fiesta. Graham commented on his car being the poshest and I, always having to have the last word, pointed out that he might be right, his might be the flashest car, but it was me who had the newest one.
We were good mates and also sibling rivals at times, but I am happy to admit Graham was the cleverest, he did have the best job, and he also had the best prospects for the future.
Graham was engaged to Sandra Hattersley. The wedding was all booked for the summer of 1990 and they had also chosen their first home.
Sandra and Graham had received a letter on the morning of 15 April, 1989 advising that the estate agents had the contract for their house ready for them to sign, but sadly, when Sandra pleaded with Graham not to go to the game so that they could go and sign for the house, he just laughed.
He said it was the semi-final and that they could sign for the house on Monday instead.
Graham had already become great friends with all of Sandra's family, both Sandra's brother-in-laws, Paul Dunderdale and Rod Sheldon, were with Graham and some other friends at the match on that fateful day.
'Mutual love'
Rod and Paul had become best of friends with Graham in the four or five years they had known one another.
To this day, Paul is like an older brother to me. We never became in-laws, so he says we're 'outlaws'.
Paul, Rod and all of Sandra's family, her mum Ena, her late dad, Ronnie, both her sisters, Linda and Sue, and also her aunts, uncles and cousins were all looking forward to welcoming Graham, our mum and dad and me, into their family.
I believe it is out of respect and our mutual love for Graham that we are all still as close as family today.
In relation to the photograph on the statement, I clearly remember the occasion I took it. It was between the daytime and evening celebrations of Linda and Paul's wedding in 1988.
Graham had been an usher and couldn't wait to get changed out of that suit. I was pestering to take his photograph. I was holding my camera at the ready trying to open his bedroom door with my shoulder and he had his foot on the inside of the door to stop me getting in.
Like the annoying little sister I could be, I laughingly reminded him that he was in a hurry and I wasn't, so he might as well give in and let me take the photograph.
In the end, he did. It really seems like it was only yesterday.
I am sure you will agree with me that Graham had so much to live for and an exciting future ahead of him.
He put so much into every aspect of his life and he truly deserved the happy future that should have been ahead of him.
I was and always will be proud to have had him as my big brother.
Not only did we lose Graham on 15 April, 1989, but all our lives changed forever too.
Both my parents are now reunited with their beloved son, which sadly, since his death, was all they ever wanted.