Road to Sonning Bridge may be raised to stop flooding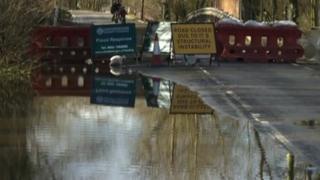 A busy commuter road, which is regularly closed due to flooding, could be increased in height.
Oxfordshire County Council is considering raising the B478 Playhatch Road to prevent future travel chaos around Sonning Bridge.
The road, which links the county to Berkshire, carries an estimated 16,000 cars on weekdays.
It causes severe traffic delays when closed, as drivers are forced to use Reading Bridge and Caversham Bridge.
Playhatch Road was damaged by floods earlier this year and reopened last month.
'Adverse impact'
Councillor David Nimmo Smith, cabinet member for transport at Oxfordshire County Council, said the proposal to raise the level of the carriageway is being investigated by the Environment Agency.
He said: "It is on a flood plain so we need to know how the water will then be displaced around the area, so that when we deal with our road we don't cause an adverse impact on the surrounding area."
If the work does go ahead it is expected to take between 18 months and two years to complete.
Other options being considered include reinstating the carriageway and putting in wider embankments.
Wokingham Borough Council's Keith Baker, who is responsible for the Berkshire side of Sonning Bridge, said the Environment Agency's assessment of any plan is key for the whole area.
He added: "Who knows what will happen until we look at that model, but I think that it will go a long, long way to providing a solution."