Hillsborough stories: Gary Christopher Church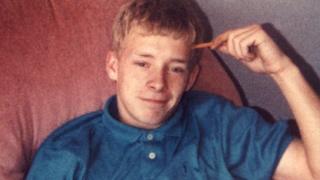 Gary Church, a joiner from Seaforth, Merseyside, travelled on a mini-bus to Sheffield with several friends, who survived.
This is the full statement to the inquests from his sister, Karen Staniford:
I am the sister of Gary Christopher Church, who died at the Hillsborough disaster on 15 April 1989. He was 19.
I make this statement at the request of the coroner with a view to providing some personal background about my brother.
This statement is made on behalf of my whole family, including, in particular, my dad, David, my sister, Tracey, and my children, Claire, Christopher and Stephen, who were Gary's nieces and nephews. My mum sadly passed away in 1999.
Gary was born at 17:20 on 31 December 1969 and was the loving son of my mum and dad, Maureen and David Church.
Gary was their youngest son and one of four children. I am the eldest, followed by our brother, David, and then Tracey, who was the youngest of their children. Gary was also grandson to Margaret Simpson and a loving uncle to my three children.
We were brought up in the Seaforth area of Liverpool, where I still live to this day, just a few doors away from the house in which my family lived as I was growing up.
Gary was a lovely child, and caused my mum and dad no trouble. He was a typical little boy, and he loved to watch and play football. He was a member of the Scouts, which he loved, because he got to go away camping with them, and he was also a choirboy at Christ Church in Waterloo.
Gary was extremely close to my mum and dad. When he was young, he and my dad would regularly go fishing together and they went away on a fishing holiday to Scotland, which Gary loved. They shared a very special father/son relationship and enjoyed spending time together.
'Popular pupil'
As Gary got older, he and my dad would make things together. They were both very creative like that.
Not long before Gary passed away, my dad and Gary made a coffee table. To this day, my dad still has the coffee table they made together and he cherishes it. It takes pride of place in his home.
Gary was always good at school and his teachers and classmates loved him. He had a lovely way of making people smile. He was always really popular at school and had lots of friends. He was also particularly popular with the girls, who all seemed to fancy him. He was a real little charmer.
As a young boy, Gary attended Christ Church Primary School in Waterloo. His favourite teacher was Mr Lewis, who was the head teacher there at the time.
Mr Lewis was always very fond of Gary, and gave a reading at Gary's funeral recalling what a lovely lad Gary was.
'Hard working'
Gary later went on to Manor High School. He had friends not only from his own school, but from other local schools in the area we lived. He said that his favourite teacher there was Mr Mann, who was his joinery teacher.
As it happens, Gary ended up working as a joiner when he left school, much to Mr Mann's delight.
On leaving school, Gary was employed as a full-time joiner by Acorn Joinery. There was a lot of unemployment at that time and Gary was very grateful to have work. He worked hard, and on some days would work from eight in the morning until 10 at night.
He was always hard working and was just starting out in his career when he passed away.
Gary would come home from work wearing his mucky work boots and his dirty work clothes, and my mum would go mad, telling him not to sit on the sofa so he didn't get it dirty. She would make him sit on the floor until he went and got changed.
Gary would walk around the house in his dirty boots just to wind her up and would find it amusing when mum shouted at him. She was really house proud and Gary would wind her up terrible.
'Full of fun'
I remember when my mum and dad bought a new sofa and my mum wouldn't let anyone sit on it in case we got it dirty or damaged it.
One day, I convinced Gary to go and lie across the new sofa with his feet up on the cushions and, when she wasn't looking, I took a photograph of him posing on it with his shoes up on her precious sofa. It made us giggle.
Gary was a big kid and was always full of fun. As well as winding my mum up, he used to wind our sister Tracey up terrible. Whenever Gary's friend Christopher Devonside came around to our house, he used to embarrass Tracey in front of Christopher saying that she fancied him.
Tracey would be mortified and Gary found it hilarious. Sadly, Christopher also died at Hillsborough along with Gary. Christopher was a lovely lad.
Outside of work, Gary loved his football. He was a keen supporter of Liverpool Football Club and was a season ticket holder. His favourite player was Peter Beardsley.
He loved both watching and playing football and he played football for our local pub team, The Doric, every Sunday. He also played in their pool team.
'Loving uncle'
Aside from this, Gary had a real love of music and idolised Eric Clapton. He would have his music blasting from his bedroom at home. His music would be that loud that when mum wanted to shout him down for his tea, she would turn the electricity off so he could hear her!
I still have all of Gary's music tapes but can't bring myself to listen to them. The memories are just too heartbreaking.
As well as being the best brother I could ever have wished for, Gary was a loving uncle to my three children, Claire, Christopher and Stephen. He loved spending time with his nieces and nephews and they adored spending time with him.
The week before Gary passed away, he took Claire and Christopher, my six-year-old twins, out for their birthdays. He took them to McDonald's for their tea and then took them to see Roger Rabbit at the cinema.
They were so excited when they found out that Uncle Gary was taking them out. I remember vividly seeing Gary carrying Christopher up on his shoulders and he was holding Claire's hand. It was such a lovely sight to see how much he loved them and how the children equally adored him.
Gary was one in a million. He loved his family and his family loved him. We rarely saw Gary without a smile on his face. He was always happy and smiling and had a special twinkle in his eye.
'Loved and missed'
He loved to make people laugh and loved to play the joker. On the other hand, Gary had a very sensitive side. He was kind, honest and sincere and would always do his best to help if someone was in need.
If he saw someone being picked on at school, Gary would be the one to go and stick up for them. If someone was feeling down, Gary would be the one to make them smile. He was loved by so many people.
It is hard to put into words just how much Gary is loved and missed every day. Gary was only 19-years-old when he passed away and he had such a bright future ahead of him. His death has devastated so many people.
To this day, I live just a few doors away from the home my family and I shared with Gary as we were growing up, and each day I look out of my window expecting Gary to come home.
Tracey and I could not have asked for a better brother, my mum and dad could not have wished for a better son, and my children could not have asked for a more loving uncle.
Gary will always and forever hold a very special place in our hearts.