Hillsborough stories: Jonathon Owens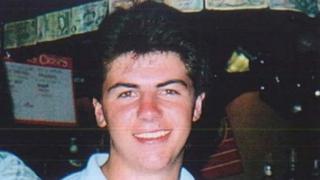 A clerical assistant from Chester, Jonathon Owens drove to the match with friends including Peter Andrew Burkett, who also died at Hillsborough.
This is the full statement to the inquests from his mother, Patricia Owens:
Jonathon Owens was born on 19 March 1971 in St Helens. He was a beautiful healthy baby boy and his father John and I fell instantly in love with our son. It was a love we knew would last forever.
Our family was small and there were no aunties and uncles for Jonathon, but there were many friends who took on that role. He was always given cards and presents at Christmas and birthdays and was always shown affection.
He was a happy child, always smiling and laughing, and was a joy to us. Jonathon was loved by all who knew him.
When Jonathon was four-and-a-half-years-old, he attended school at St Mary's Lowe House, where he settled in well and enjoyed his days in the classroom.
He made many friends and was quick to learn the basics of education. The headmistress there was a nun and the teachers were the same ones who had taught me many years previously.
'Cherished memories'
Discipline was high on the agenda so Jonathon learnt from an early age of his education what was good and what was bad, what was rewarded and what was frowned upon.
Similar principles were carried out at home and Jonathon was a well-behaved little boy with good manners. He never caused any problems.
At this young age he was enthusiastic to take part in all events at school. He was involved in nativity plays, concerts, sports days and other events that parents came to see and enjoy.
These times are cherished memories that John and I reflect on and recall with pride.
We had some lovely times as a family. We always went on holiday for at least one week in the summertime and enjoyed staying in Cornwall, Devon, the Lake District and Wales.
Although Jonathon was only two-years-old when we first went on holiday together, he could remember and chat about it when he grew older. I am glad that we were able to give him fond memories just as he gave them to us.
'Keen on sports'
John worked with a building society and his role meant that we moved house a number of times. Between 1977 and 1982, his job took us to live in Cardiff, Southport, St Helens and Chester.
Jonathon was six and a half when we first left St Helens and, although he was sad to leave his grandparents, he settled into a new school, made new friends and enjoyed himself. This was especially so when we adopted Lassie, a lovely 10-month-old Border Collie, shortly after we arrived in Cardiff.
By this time, Jonathon had become keen on sports and, although his dad was a keen supporter of Rugby League, Jonathon preferred football and supported Liverpool Football Club.
He became a lover of all competitive sports and read lots of books on the subject. He tried his hand at playing in lots of different sports for enjoyment and recreation, but decided he was a better spectator than a player.
There was a lot going on in Cardiff and John took Jonathon to many sporting events. Jonathon made his first trip to Wembley in 1978 to watch the Rugby League Cup final between St Helens and Leeds. It was a very tight game but we lost 14 points to 12 points.
'Anfield regular'
Jonathon had a good life over the next few years. His education flourished, he was always bright and cheerful and had lots of friends.
When we returned to the north-west, Ainsdale in Southport became our home. We were just 30 minutes away from Jonathon's grandparents and all our friends who had been so fond of him. We all found it great to be back.
Anfield became a regular place for Jonathon and some of his friends and by this time his support for Liverpool Football Club was really strong. Jonathon had also started to play snooker, so his Christmas present that year was a 6x4 snooker table.
After that, our house was always full of young ones and Jonathon had found a game he could play really well.
In September, 1982, Jonathon had his first real upset when his gran, whom he loved, died from cancer. She was my mother and we all missed her very much.
By the end of that year, we had moved for the third time to the lovely city of Chester. We chose a home in the catchment area of Upton High School, which was over the road from a sports centre, so it was perfect for Jonathon.
The centre had a snooker room where Jonathon developed his game and over the next few years he became a superb player.
'Pop festivals'
Jonathon enjoyed learning and had a lot of books that provided him with a good knowledge on a wide range of subjects. He loved school in his teenage years, but he was no academic - homework was done as quickly as possible straight after school so he could get on with more fun things.
He loved to be taught and learn but he did not enjoy having to study. Although he did quite well in exam results at the end of each school year, the words 'could do better' or 'could try harder' always appeared in his reports.
Jonathon became extremely friendly with four school pals and the five of them enjoyed doing lots of things together. They visited pop festivals and concerts and shared lots of interests.
One of these friends was a keen supporter of Liverpool, as was Jonathon, so together they went to watch them play whenever possible. They became the best of friends and remained so throughout the years.
Music was always a big part of our lives at home and we had a wide and varied collection. Jonathon added to this with his love of rock, blues and modern jazz.
At 14, he bought a second-hand set of drums and, although he was no Phil Collins, he was very content to sit with his ear phones and drum along.
Towards the end of his education at Upton High School, Jonathon had no idea what he wanted to do for a career. He was totally laid back, carefree and never worried at all.
'Loved work'
His decision to leave school after taking O levels came as a great surprise to his dad and I, but after many long discussions, encouraging him to stay on at school, his mind was made up.
He achieved five O levels with good grades and, in September 1987, when all his friends returned to school, he applied for two positions: one at the NatWest Bank in Warrington and one at the Royal Life Insurance Company in Liverpool.
He was delighted to be asked to attend for an interview for both these positions and was really thrilled when he was offered both posts. After some consideration, he accepted Royal Life's offer, due mainly to the public transport rail link between Upton Station and Moorfields.
From the very start, Jonathon loved being at work. He was totally happy and the group of people he worked with made him very welcome and became good friends.
They all lived around Liverpool and all supported LFC. Although Jonathon was the youngest, he was maturing quickly and became very much a part of this group of colleagues from work.
'Journalistic ambitions'
Peter Burkett was part of this group and, although he was four years older than Jonathon, they became good pals. As his friendships developed, Jonathon began to stay in Liverpool after work on a Friday, going out for the night, returning home on the train.
He also had a good social life with his friends in Chester. Jonathon was now going to Anfield regularly and rarely missed a home game.
We also taught him at this point how to drive. He had a number of lessons and passed his test.
Jonathon had a short relationship with a 17-year-old girl from Chester whom it was very obvious he strongly liked. After about seven to eight weeks of dating, she moved from Chester to London to become a nanny.
The end of this relationship was a sudden surprise to Jonathon and he was a little hurt and a little sad, but very quickly got back into the swing of things.
Jonathon was by now a young man. He was over 6ft tall, well built and quite a handsome lad. He was considering his future quite seriously, and had started night school studying A-level history.
His plan now was to hopefully get three A-levels by the time he was 20. The possibility of becoming a journalist was very much in his thoughts.
'Dancing in kitchen'
He was not particularly ambitious. He did not have dreams of what would be, although he did have goals. He was very down to earth and realistic. When asked what he wanted to do in life, he would answer, 'To be as happy as I am now in the future', to have a good relationship with a woman he loved and who loved him, possibly a couple of children, a good job and a second-hand BMW.
Our home life with Jonathon was great. We had our disagreements and occasional rows of course - it wasn't all a bed of roses, but love and laughter was always at the forefront. The three of us were the best of pals.
Jonathon had a couple of nights out a week with his dad, usually at the British Legion in Upton, for a game of snooker, darts and a few pints. They were best of mates and shared a lot in common.
I shared his love of music. Sunday mornings we would dance in the kitchen to Paul Simon's 'Graceland' tape and we both loved Dire Straits, 'The Walk of Life'.
At quieter times, we would listen to Puccini's music from the operas and favourites like Dave Brubeck playing 'Take Five'. We loved watching television and would relax in the evenings watching quiz shows and comedies like 'Only Fools and Horses' and 'A Question of Sport'.
We both enjoyed watching a good film and 'Whicker's World' was a programme we regularly watched together.
Jonathon's 18th birthday in March 1989 was celebrated with the family at a quiet restaurant with a lovely meal and a number of drinks. He also enjoyed a night out with friends the previous evening.
When he arrived home, he was a little bit worse for the wear, to say the least. He enjoyed a pint of Guinness and that was his tipple, and he now smoked, but not a lot. He had become a grownup in his own right.
Everyone, from our neighbours to the people John and I worked with, our friends, to his grandparents, all said what a lovely lad he was.
To his dad and I, this was Jonathon: a lovely, friendly lad, always happy, with a smile on his face. He was a wonderful son and the love we felt when he was born did last forever.
Days before Jonathon went to watch Liverpool at Sheffield, we found an advert in the Warrington Post for a junior reporter to work on that newspaper. It was a couple of weeks old and, on showing it to Jonathon, he said he thought it was a bit too late to do anything about.
I left it up to him, saying nothing ventured, nothing gained. After a couple of days he had written and applied for the job.
'First away game'
On Friday, 14 April 1989, Jonathon phoned me at work. He was rather pleased and excited and said that he had got a ticket for tomorrow's semi-final at Hillsborough. He asked if I thought his dad would let him go in the car with Peter Burkett and possibly another friend.
I said I didn't know what his dad would think about him driving such a long way, particularly on motorways, when the furthest he had driven was to St Helens and back. I told him: "You'll have to ask your dad tonight" and ended the phone call.
At that moment, I did not want him to go. I was concerned about him driving so far on what would be a very busy day.
That evening, with some thought, and on the condition that Jonathon would not drink, John's answer was yes, he could use the car. Jonathon was made up and immediately phoned Peter to make arrangements to go to the match.
This was the first time Jonathon had been to an away game and he was delighted.
On the morning of Saturday, 15 April, Jonathon left home, saying to me: "Don't worry, mum. I'll be OK driving". I said: "I know you will. Take care and have a great day". Jonathon and Peter died that day at Hillsborough and never came home.
He was the love of our life. We have missed him so much since his death and we will always, always remember him and love him with all our hearts.