Hillsborough stories: Paul Clark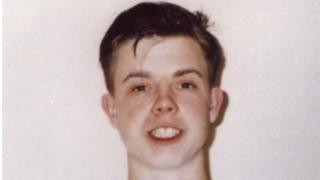 An apprentice electrician from Swanwick, Derbyshire, Paul Clark drove with a friend and his father, Kenneth Clark, who both survived.
This is the full statement to the inquests from his father, Ken Clark:
Paul Clark was born on 12 March 1971, a beautiful fair-haired, blue-eyed little boy. He came from a happy, loving family and lived at home in Swanwick, Derbyshire, with his mum, myself and his younger sister, Tracey.
He was a lovely young man who was good natured, fun-loving and caring. He had a great personality and was known for his sense of humour and wonderful smile and he loved telling jokes.
Paul was a very active young man, who had a go at most things.
As a young boy, he joined the Cub Scouts and was always bringing badges home to be sewn on to his jumper.
He loved to go camping with the Cubs. He also enjoyed fishing with his friends and they often used to go to a reservoir near where we lived to fish.
'Lovely Christmases'
I remember when he was about 13, I went for an overnight camping trip with Paul and we did some fishing. We still have photos of him and his prize catch.
We have memories of lovely Christmases as a family. When he was about six, we bought him a toy drum kit.
Early Christmas morning, we, and possibly half the neighbours on the street, were woken up by this banging and crashing drum kit. Fortunately, we had very good neighbours.
When Paul was about 13, he wanted a gold BMX bike for Christmas, which of course was the most expensive in the range. We told him we couldn't afford the gold one, but would get him the silver one instead.
When we got to the shop, we saw the bike he wanted and couldn't resist buying it for him. What a surprise he got on Christmas Day. The smile never left his face. We still have the bike at home. We have never felt able to let it go.
'Passionate about football'
He was very popular at school and his favourite subjects were maths, physics and sport. He took part in after school activities, including football and basketball, and was a member of the school basketball team.
He had also recently taken up golf. His best friend's dad took them a few times and he was really enjoying it.
We used to go on family holidays together and for several years, when Paul was younger, we went to Butlins holiday camps. He always got involved in any activities that were taking place and he once had a football training session with Peter Osgood of Chelsea.
The last holiday we had as a family was to Mallorca with his aunty and uncle. It was a lovely trip. We had lots of family day outs and he loved going to Alton Towers where he enjoyed all the rides.
Football was a passion we had in common. I have supported Liverpool Football Club since the early 60s, and I passed my love of the club to Paul.
'Trips to Wembley'
As he got older and more interested in Liverpool, when asked what he wanted for Christmas, all Paul had on his list were Liverpool curtains, Liverpool bed spread, Liverpool rug, and a Liverpool lamp. We bought him these and decorated his room for him.
Kenny Dalglish and Ian Rush were his favourite players. He once had two goldfish which he named 'Kenny' and 'Ian'. When he died, he was a member of the Derby branch of the Liverpool Supporters' Club and a season ticket holder.
I believe I took him to his first football game. It was at Anfield and he was about 12. He used to go to other games with me as well when he was younger.
As a family, we tended to go to the more local away matches and we also had a few trips to Wembley. I would go to the match with him whilst his mother and sister would go shopping.
Paul used to play football for a local team and was thrilled to be named the 'Player's Player of the Year' at the end of one season. Susan reminds me that we all went to an awards evening where they were handing out trophies and, when his name was called, we were all so surprised and proud of him.
Paul was an achiever. He was an apprentice electrician and was working hard to gain his qualifications. He had passed the first part of his City and Guilds for electrical installations.
Paul could be quite mischievous. When his mum called him in the morning to get up for work, sometimes he wouldn't answer, pretending to be still asleep. She would go up to his room and he would be lying there with a smile on his face. She would tickle his feet and he would soon be up getting ready for work.
'Popular young man'
Before he bought his first car, he had a bike and would cycle about three miles into work. One day when he came back from work, he told us he couldn't be cycling anymore as it was too tiring after a hard day's work. Something about the way he said it made us all laugh.
When Paul was 17 he passed his driving test after only nine lessons and bought his first car, an old Ford Escort. He was eager to get a better car and was saving hard to buy a Volkswagen Golf.
He had a wide taste in music, but we can remember that his favourites were Depeche Mode, The Pet Shop Boys and Erasure.
Paul was a popular young man who had many friends. To this day, they all meet together in the village on 15 April to remember him and lay flowers on his grave.
He celebrated his 18th birthday just a month before Hillsborough. Paul was dearly loved by his family and friends. He was happy and full of life and had a bright future ahead of him.