Underhill Farm bull attack trial: Farmer denies animal aggressive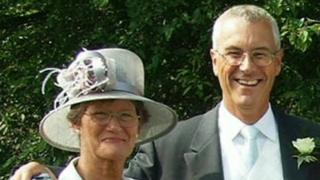 A farmer accused of manslaughter after a walker was killed by his bull has denied that the animal was aggressive.
Roger Freeman, 63, was attacked while walking through Underhill Farm at Stanford-on-Soar in 2010.
Nottingham Crown Court heard the bull had already chased other people and posed "a real risk of death".
Farmer Paul Waterfall, 39, denies manslaughter by gross negligence. He said the bull had never shown any aggression towards him or his staff.
However, prosecutors claim he knew the 19-month-old bull posed a "deadly risk" to walkers and had described the animal as a "nasty and aggressive" bull who "kept walkers on their toes" in the weeks before the fatal attack.
'Lots of visitors'
Opening the defence case, Martin Meeke QC, said the bull was neither nasty or aggressive. Had he been, the defendant would not have hesitated to send it to slaughter, he said.
Mr Meeke said Mr Waterfall made the comment about keeping walkers on their toes "in jest" weeks before the fatal incident occurred.
He said: "The defendant could only have been negligent if he knew Zac (the bull) was not safe to be put in that field. Mr Waterfall had no such knowledge."
Giving evidence, Mr Waterfall told the jury he grazed other breeds of bull in the field where the fatality occurred and had never had any problems in the past.
"I've got a responsibility to all the people on the farm. I think a lot of my staff. I've got two children, my wife and we have lots of visitors all the time," he said.
The court was told the bull was put down immediately after the attack on Mr Freeman.
Mr Waterfall denies manslaughter by gross negligence. It is alleged he breached his duty of care to the public by failing to ensure the bull was safely confined on his land.
The trial was adjourned until Friday.