Overturned lorry recovery closes M42 for about 10 hours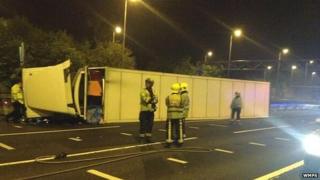 Part of the M42 in the West Midlands was closed for about 10 hours after a lorry overturned, spilling diesel on to the motorway.
The northbound carriageway of the motorway closed between junctions 4 and 5, near Solihull, after the spillage in the early hours.
After recovery, the carriageway opened just before 12:30 BST.
The lorry driver was released from the cab after firefighters removed the windscreen.
A West Midlands Ambulance Service spokesman said: "The driver was complaining of back pain and some discomfort in his left leg.
"As a precaution, he was immobilised using a neck collar and spinal board before being taken to Heartlands Hospital for further assessment."