Blunham conmen: Third man jailed for tricking pensioner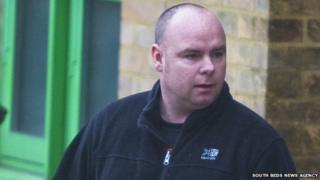 A third man has been jailed, for four-and-a-half years, for conning an 84-year-old woman with dementia out of her £73,500 life savings.
Francis Doherty, 36, from Northamptonshire, was convicted of theft at Luton Crown Court last month.
The jury heard the victim left the money at a bus stop near her home in Blunham, Bedfordshire, to help pay for the recovery of £25,000 she had spent on shoddy work on her driveway.
Two other men had already been jailed.
The trial last month heard the victim had received phone calls from a man called "Oliver" who convinced her he could help her mount a legal campaign to recover the £25,000 she had spent on her home in 2004.
She was persuaded to leave the money in envelopes near her home on eight occasions between 2010 and 2011.
Suspicious withdrawals
Police caught the men when another drop, of £15,000, was being made.
It followed a tip-off by the victim's bank manager, who had become suspicious about withdrawals she had made.
Doherty, of Gypsy Lane, Irchester, and his brother Hughie Doherty, 31, of Newton Road, Rushden, denied theft, claiming they made a living breeding gypsy cob horses.
Their brother-in-law David Young, 31, of Arrington in Cambridgeshire, had pleaded guilty and last month was sentenced to three-and-a-half-years in jail, while Hughie Doherty, who was found guilty by the jury, was sentenced to five years.
David Stanton, prosecuting, said: "These despicable offences were a planned operation by three defendants who took advantage of an 84-year-old woman who was suffering from dementia.
"She didn't confide in her family or say what was going on."
Judge Stuart Bridge said the effect on the victim was "appalling".