Hillsborough stories: David Leonard Thomas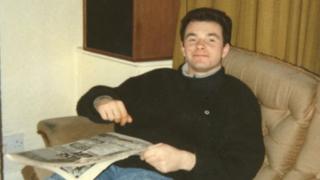 A joiner from Birkenhead, David Leonard Thomas, travelled by hire car to Sheffield for the match with friends
This is the full statement to the inquests from his mother, Valerie Thomas:
David Leonard Thomas was born on 14 May, 1965. He was 23 when he died. My husband, Henry Thomas, who sadly passed away 17 years ago, was as proud of him as I was.
He was just becoming a man when he was taken from us.
I remember he used the money he received for his 21st birthday as a deposit on a small house. He then started his own business as a painting and decorating and small business repairs man.
David was quite successful in his short life. I find it hard to talk about him now.
'Deeply missed'
I think it would be most apt if a tribute written by his brother-in-law at the time of the Hillsborough tragedy is read out. It reads as follows:
'I had the pleasure of meeting David. He was quiet, predictable and the type of person who would take the shirt off his back to use as a bandage if it was necessary.
His willingness and attitude as regards helping other people, notwithstanding any narrow-minded critics around him, was his greatest asset. He had no hidden character.
What you saw and heard was what you got. His broad grin always met you, no matter what problems of his own lay beneath.
He will be deeply missed by all those who were fortunate enough to meet him.
So to you, David Thomas, and all those who died with you, rest in peace'.