Hillsborough stories: Thomas Steven Fox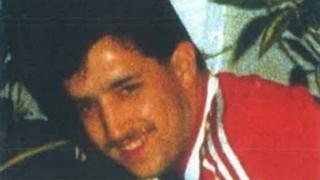 Steve Fox was a production worker from Birkenhead, who travelled to Sheffield by car with several friends, including John Pleavin, a survivor, and Raymond Chapman, who also died in the tragedy.
This is the full statement to the inquests from his mother, Brenda Fox:
Thomas Steven Fox, born 14, June 1967, age 21:
Steve Fox, as he was known to many, was born to Desi and Brenda Fox. He was our first child and the first grandchild for both grandparents.
Life started in a small house in Birkenhead and was followed less than three years later by the birth of his brother, Tony, and then later his sister, Lynne, who was six years younger than Steve.
As a family, we moved to a much bigger house on Carlton Road, where Steve lived for the rest of his short life.
I fondly remember Steve as a little sod when he was young. I needed eyes in the back of my head to keep an eye on him.
When he was two-and-a-half years old, he had a wheelie dog on a trolley to walk around with. We also had a Labrador called Blue.
One day, Steve was walking the toy dog in the garden with Blue and he was there one minute and gone the next. I went out. The gate was open.
I knew Blue would never have left him on his own, so I called Blue, but there was no response. I looked up and down the path. He was nowhere to be seen.
I was panicking. I knew Blue would watch him, but there were a lot of busy roads and I was worried.
I ran to my neighbours to check there and we drove around looking for him. Eventually, a taxi turned up with my mother-in-law, Blue, Steve and the toy dog in the car.
Steve had decided he was going to walk up and see his grandmother. His grandmother lives two miles away and across two very busy roads.
He attended St Joseph's Primary School and Plessington High School. This path of education also paved the way for the siblings who followed the same route with much more ease as the teachers recognised them from their brother's successful beginnings.
Having your teachers recognise you in that way and having a preconceived idea that you are as bright and friendly and well behaved as your older sibling is a good way to start life in any new school.
Steve was a well-liked student who, according to his school reports, needed no practice in the art of conversation.
He developed an interest in sports very early on. A keen swimmer with a concern for safety, he earned his certificate in life saving. He was also a talented darts and pool player and obviously had a passion for football.
He earned many trophies in five-a-side soccer and gave up his time on Sundays to help as a linesman in local matches. He was a very sociable person, well known and well liked in all circles of friends and colleagues.
'Altar boy'
His family are still in touch with his lifelong best friend, Mark, who is now married with two children.
Steve was an independent boy. His working life started very early on when he became an altar boy at the local church. He continued this until he was 14, after which he took a paper round.
After school, he attended a YTS course, followed by work in Cadbury's chocolate factory, where he was a hard worker and well liked. He continued in his desire to help people by completing his first aid safety certificate and becoming a registered first aider at work.
He worked at Cadbury's up until he died. He actually spend his 21st birthday on a shift there, where some of his colleagues thought it would be a great birthday present to throw him in a VAT of unused chocolate. It is a memory our family still laugh about to this day.
'Donor'
Steve got a moped after starting at Cadbury's and one day some kids playing cricket hit a ball and it got caught in his wheel throwing him over the handlebars.
A week after that Steve came home and asked me to sign an organ donor card for him. He said he was lucky and next time he might not be and, if he wasn't, he wanted somebody else to be.
He said, they can have everything except his eyes, as he would need those to see with. He carried an organ donor card at all times in his wallet after that, and the same wallet was in his pocket before his death, in his pocket the day of the disaster.
Had he been taken to hospital before his death, many others would have benefited from his willingness to donate.
Sadly, he never made it to hospital.
Away from the social scene, Steve was an avid reader. His bedroom was littered with books ranging from Enid Blyton's Famous Five to Agatha Christie and Stephen King.
Steve was caring, funny, smart, sensitive, an animal-loving son, brother, cousin, nephew, grandson and friend. He was a pleasure to be around and active both in sports and social scenes.
A great boy died on April 15, 1989, along with a potential husband, father, uncle and friend. He is still greatly missed by all who knew him.