Staffordshire police dog to sniff out drugs in hospitals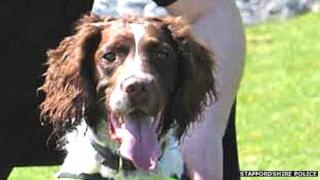 A sniffer dog has been brought in to find drugs in Shropshire and South Staffordshire hospitals.
Buster, an English Springer Spaniel, has been trained by police and will work with NHS dog handler Wayne Harvey.
Dr Claire Barkley, of South Staffordshire and Shropshire Healthcare, said Buster will "be a valuable deterrent".
"I think it's very positive we've been able to make this innovative idea a reality," Mr Harvey said.
A spokeswoman for the NHS Foundation Trust said Buster will be a welcome addition.
"We are committed to doing everything we can to make hospital wards safe and effective places for patients, visitors and staff," she said.
"Buster will not only be a deterrent but will enable us to respond quickly to any concerns raised about drugs on any of our premises."