Hillsborough families complete 96-mile walk of thanks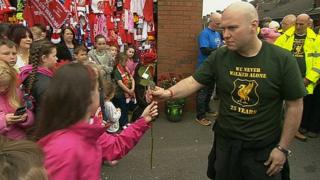 Hillsborough families and supporters have completed a 96-mile (154km) walk from the Sheffield ground to Liverpool.
We Never Walked Alone event, saw about 40 people leave Hillsborough on Friday, arriving at Anfield at about 14:00 BST.
The group visited football grounds in Huddersfield, Oldham, Manchester, Bury, Bolton and Wigan along the way.
Steve Kelly, who lost his brother Michael at Hillsborough, said it had been about thanking the "wider football community" for their support.
"For many years, people have supported us financially and emotionally and this is our way of saying thank you," he said.
The group's last leg took them from a short stop at Everton's Goodison Park across Stanley Park to Liverpool's Anfield, where they were met by a crowd.
'It's so moving'
A memorial service marking the 25th anniversary of the disaster was held at the ground on Tuesday to remember the 96 fans who died during the FA Cup semi-final between Liverpool and Nottingham Forest on 15 April 1989.
The walkers also held a short ceremony in which the names of those who died were read out as red roses were handed to children to be laid at the ground's memorial.
One walker said the reception had been "fantastic".
"It's so moving today, but we knew it would be like this - it's probably what kept us going across the weekend," he said.
Another said that as the group had walked along the A580 East Lancashire Road, there had been a lot of support with "beep after beep after beep" from passing drivers.
Mr Kelly said it had been "a long journey over the Pennines, but the 25-year journey was more painful".
Fresh inquests into the deaths of the fans being held in Warrington have been adjourned until 22 April.
They were ordered after the original accidental death inquest verdicts were quashed in 2012 following an independent report.