Bunged-up orangutan has sinus operation at Chester Zoo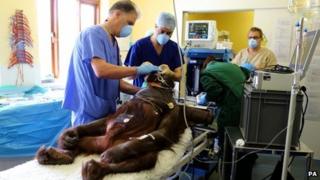 An orangutan with breathing problems has undergone what is believed to have been the first sinus operation on such an ape in the UK.
Bornean orangutan Vicky underwent the sinus operation at Chester Zoo.
Along with zoo vets and a specialist from Switzerland, a human sinus expert also helped carry out the operation.
The 29-year-old and her two daughters Summer and Cherie are expected to return to their usual home at Blackpool Zoo in the summer.
Chester Zoo vet Steve Unwin said Vicky's chronic sinusitis would have often made her feel "thick headed" and made her more susceptible to picking up infections.
He said the operation, which was carried out on Thursday, would "dramatically improve things for her".