Devon and Cornwall Police to cut 90 more officer jobs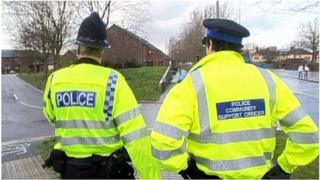 Ninety police officer jobs will be cut in Devon and Cornwall because of a government funding squeeze, the police and crime commissioner (PCC) has said.
About 3,100 officers are currently employed by Devon and Cornwall Police.
PCC Tony Hogg plans to cut the number to 3,010 over the next four years.
The Home Office said the police had a "challenging funding settlement" but the reform "was working". However, the force's police federation said the cut was "not sustainable".
Since 2011, police officer numbers in Devon and Cornwall have fallen by about 400.
'Tough financial pressures'
Nigel Rabbitts, chair of the force's police federation, said: "The visibility of patrol officers will be below what's required."
Mr Hogg said: "We clearly face some tough financial pressures over the coming years but I have pledged to maintain police officer numbers despite this.
"Our medium-term financial strategy, which covers the next four years, ensures that we will still have more than 3,000 officers in 2017-18.
"The former police authority was planning to cut the number of officers to 2,810 and I have taken active steps to stop the decline to that level."
Because of government cuts the force must reduce spending by £51m by 2015.
It also expects to lose a further £27m by 2017-18.
A Home Office spokesman said: "Police reform is working and independent measures show crime levels have fallen.
"Getting the economy back on track has meant a challenging funding settlement for the police, but forces like Devon and Cornwall have shown an ability to make savings while still cutting crime."