Kent and Surrey winter flood recovery continues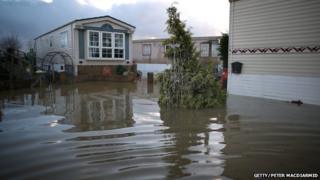 Help for people still affected by winter floods is being offered at drop-in sessions across Kent and Surrey.
The National Flood Forum is providing support in Yalding and the Lower Thames area, and will hold further events in May.
It is providing advice over continuing insurance claims, helping people who were uninsured, and assisting those who are still in temporary accommodation.
The Environment Agency, police and fire officers will be at some of the events.
Recovery 'takes 18 months'
Heather Shepherd, community and recovery support officer, said the charity had worked intensively in Surrey for well over a month.
"Recovery needs usually go on for at least 18 months, and people's needs change through that 18 months," she said.
On top of insurance issues, charity workers had been called on to help people who had health problems after the flooding, and they also had to find out where people were living, because communities had dispersed, she said.
In both Kent and Surrey, flood victims had needed help in dealing with insurance loss adjusters and the Repair and Renew Grant offered by the government, she added.
"We have also been contacted by people in Somerset, Hampshire and Berkshire, so we are being stretched all over the place at the moment," she said.
"Flooding is very traumatic and stressful at the time, and it continues to be traumatic and stressful going through the reinstatement of your property.
"But people need to know the forum is here to help them."
Flooding, heavy rain and high winds battered the South East through the winter months.
The River Medway flooded areas from Tonbridge to Allington with Mereworth and Yalding badly affected.
In February, the River Thames burst its banks and went on to reach its highest level in 60 years, leaving about a thousand homes in Surrey flooded.
Ten flood recovery events are being held across Kent, organised by Maidstone council, and further sessions are taking place in Runnymede and Spelthorne.