Peterborough teenager Mohammed Sanghar died of head injuries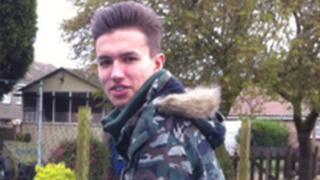 A teenager who was allegedly robbed and murdered in an incident with a car died of head injuries, a post-mortem examination has revealed.
Mohammed Haroon Sanghar, 18, was injured in Russell Street, Peterborough, on Thursday and died in hospital the next day.
James Pettit, 21, and Dino Fumo, 23, both of Bedford, were charged with robbery and murder on Monday.
They appeared at Cambridge Crown Court earlier.
Mr Sanghar, who was known as Haroon, was seriously hurt in the incident at about 14:30 BST.
Police said there would have been witnesses to a black Vauxhall Astra driving erratically in a busy part of the city and have appealed for people to contact them.
Mr Petitt, of Restormal Close, and Mr Fumo, of St Michael's Road, were remanded and are due to appear at a plea hearing in June.