Euro wind energy chief slams UK attitude to wind farms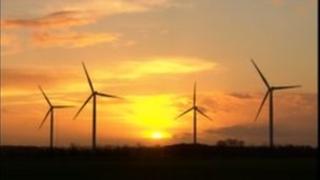 Britain's "negative" attitude to wind power has been criticised by the Brussels-based head of a leading green energy body.
Chief executive of the European Wind Energy Association, Thomas Becker, claimed the UK was missing out on a valuable energy source.
In an interview with the Sunday Politics in Yorkshire and Lincolnshire Mr Becker said: "The debate in the UK has become overly negative. In my opinion, wind turbines are beautiful.
"You could be having British wind turbines providing electricity for Britain and other parts of the EU. And you wouldn't be so dependent on [Russia President] Mr Putin and the Middle East."
Those comments came as politicians and business leaders in Hull were celebrating the news that engineering giant Siemens is to create more than 1,000 new jobs manufacturing wind turbines on the banks of the Humber.
The Siemens proposals will focus on the offshore wind industry. However, it seems the future of onshore wind power hangs in the balance at Westminster.
Proposed cap
Many Conservatives want the party to commit to a cap on the number of new wind farms - if they form the next government.
Tory party chairman, Grant Shapps, was reported as telling journalists that onshore wind farms "upset everybody" and "by and large" turbines are better located at sea.
Those views have been echoed by the Conservative leader of Lincolnshire County Council, Martin Hill, whose authority has sought to block the number of wind farm developments in the county.
Councillor Hill said: "I think there should be a restriction and I think the subsidy regime should be sorted out, because the cost of these things are being passed on the consumer."
Some Labour and Liberal Democrats members have criticised the Tories and claim the party's tougher stance against onshore wind turbines is part of a bid to win over UKIP supporters.
The stage is set for a fierce debate in the run-up to the 2015 general election as politicians battle for votes in rural constituencies.