Strood 20ft-deep hole causes sewer collapse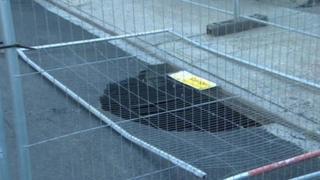 A road has been shut after a 6m (20ft) deep hole caused a sewer to collapse in Kent.
The hole appeared in Elaine Avenue, Strood, on Monday afternoon, Medway Council said.
Southern Water will have to use a crane to lower workers into the hole to carry out repairs and replace the damaged section of pipe, the spokesman said.
The council, which will resurface the road, said it was not known what caused the hole or when the road would reopen.
Meanwhile a section of the A23 north of the Crawley in West Sussex, was shut last week after the appearance of a smaller hole, caused by a leaking sewer pipe.
After initially saying the road would be closed for the rest of the week, Thames Water said it was expected to stay closed for a number of weeks as engineers try to repair the damage.