Express and Star and Shropshire Star could cut 76 jobs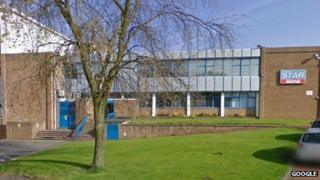 Up to 76 jobs could be lost at two Midlands newspapers as their publisher seeks to restructure.
The Midland News Association (MNA) has started a consultation which could see both the Shropshire Star and the Wolverhampton-based Express and Star move to an overnight production.
The company said by reducing staff it could "better... serve our print and digital audiences".
But unions said they were "sceptical" job losses would improve news coverage.
'The market leaders'
A staff member, who wished to remain anonymous, said: "Six weeks ago, we were given a presentation about how the company was moving forwards.
"Yesterday, we were kept in the dark as it went backwards. It's a horrible place to work. I hope I can jump ship before it sinks completely."
The National Union of Journalists (NUJ) said the newspapers were among the biggest-selling regional titles in Britain.
The union said MNA had previously held off from overnight production - a move which many regional papers, including the Birmingham Mail - have already made.
Chris Morley, Northern and Midlands organiser for the NUJ, said he feared the loss of on-the-day printing would mean the papers would be less flexible when covering breaking news stories.
"The papers are in the position they are, as the market leaders, because they have concentrated on high editorial staffing and extensive news and sport coverage," he said.
"To change that and go down the route all the other papers have gone down will, I fear, mean the papers' circulation declines steeply and won't allow them the time they need to develop their online presence on a scale that's going to bring in revenue."
The positions the group has identified as being "at risk" include 21 jobs in circulation, 12 in advertising, 12 in editorial and 12 in transport, as well as jobs in services, production and finance.
In a letter to staff, Phil Inman, chief executive of the Claverley Group, which oversees MNA, said: "It is hoped as much of this reduction as possible can be achieved through voluntary severance but compulsory redundancies cannot be ruled out.
"If we stand still, for the first time in the MNA's history we risk becoming irrelevant to the way people live their lives."
The consultation will last for 45 days.