Donations surge for London Marathon runner Robert Berry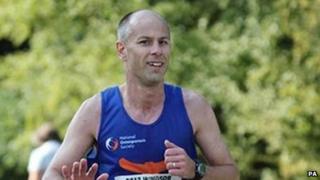 More than £50,000 has been donated to charity in memory of a runner who died after completing the London Marathon.
Robert Berry, 42, was raising money for the National Osteoporosis Society when he collapsed at the finishing line on Sunday.
Mr Berry, from Newbury in Berkshire, received emergency medical attention but died after being transferred to St Mary's Hospital, in central London.
His Just Giving page has seen more than 4,000 donations to the charity.
Mr Berry said on the website that he was supporting the charity in tribute to his "inspirational" mother, who was diagnosed with a brittle bone condition aged 52.
Breathing 'struggle'
In a message on his personal website, Mr Berry wrote: "This page is dedicated to my mum, who despite being diagnosed with osteoporosis at the relatively early age of 52 years, has been an inspiration through the continued positive outlook she has displayed ever since, despite some quite clear discomfort."
Claire Severgnini, chief executive of The National Osteoporosis Society said: "Our immediate concerns are for Mr Berry's family. Our thoughts and deepest sympathies are with them at this tragic time."
Mr Berry, who worked in IT services, had described how breathing during a training run was "a big struggle" in a post on his blog just seven days before Sunday's event.
"I have now used my inhaler 3 times in the last week whereas I might use it 3 times in year," he wrote.
His death comes two years after Claire Squires, 30, from North Kilworth, Leicestershire, collapsed and died from cardiac failure on the final stretch of the 26.2-mile course.
Sunday's event was the 34th London Marathon.