Hillsborough stories: Graham John Wright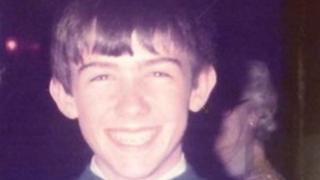 Graham Wright, an insurance clerk from Liverpool, travelled to Sheffield by coach with his friend James Gary Aspinall, who also died in the Hillsborough disaster on 15 April 1989.
This is the full statement to the inquests read by his brother, Stephen Wright:
I am the brother of Graham John Wright, who was killed in the Hillsborough disaster on 15 April, 1989. He was 17 years old.
I make this statement at the request of the coroner with a view to providing some personal background about my brother.
I make this statement on behalf of Graham's family and it therefore includes some of my Dad's recollections.
My brother Graham was born on 31 July, 1971 in Mill Road Hospital, Liverpool. He was the youngest of four children born to my Mum, Beryl, who died in 2005, and my Dad, George.
People called him either Graham or Gray. Graham was three years younger than me, and I also have an older sister, Anne, and I had an older brother, David, who sadly died in 2010.
There were four of us growing up, but due to the age differences, Graham and I were one pair, together all the time. By 1989, only Graham and I were left living at home with our parents.
'Mr Happy'
From my earliest memory, my brother Graham was always with me. Every childhood family memory is with him. As I was the nearest in age to our Graham, we always played together and we even shared the same double bed until I reached my teens.
It was a very close younger-to-older-brother relationship.
As a child, I remember Graham being very happy all the time. He smiled and laughed a lot. He would sit there with his Mr Men books and it was no surprise that Mr Tickle and Mr Happy were his favourites.
Graham loved to read when he was growing up and he enjoyed reading encyclopaedias or his book about dogs. He loved his Action Men toys, too, and would be there for hours playing with them.
He also would venture outdoors with his metal detector, convinced he would find some buried treasure somewhere. There was a field at the front of our house where we used to play football with our brother, Dave. My Dad remembers how we often came back from football covered in mud.
He says he can still picture my mother laying newspaper on the floor to avoid us getting mud everywhere in the house. My Dad cherishes these memories.
Graham and I both went to the same school. Both of our parents worked, and so, by the time I got to junior school, I would take Graham to school of a morning and wait for him when it finished at the end of the day.
'Writing to magazines'
He was very bright and loved school and loved football, playing football in the school team. He was also a keen cricket player.
Entering into his teen years, he followed in my footsteps by getting a paper job delivering the newspapers around the area. He would spend his wages on computer magazines and computer games.
He would even write to the computer magazines offering his thoughts, sometimes ending up in print. He was very happy about that.
He enjoyed watching Liverpool Football Club play, whether it be on the TV or actually going to Anfield.
He also came to a couple of away games with me. As children, he would always have the Liverpool away kit on, and I would wear the home kit, so we were both very passionate about our team from an early age.
Another passion of his was full contact Karate. After he took this sport up, I came to the sensible conclusion not to argue with him anymore.
He was active in this sport right up until his death and was completing his final qualifications to achieve his black belt at the time. The black belt was awarded to him posthumously by Liverpool Contact Karate Club.
My Dad recalls that one of Graham's other passions was to sketch, and he often left pictures around the house. My Dad still looks at these from time to time.
Rock festivals
Graham also enjoyed taking photographs. He took lots of photographs on our annual family holidays in Prestatyn. My father has wonderful memories of the family running in the sand dunes. He can still picture Graham running to him to get pennies to play on the machines in the amusement arcade.
Graham also loved music, attending concerts, and he even went to the Donnington Monsters of Rock Festival in 1988, where his favourite band, Guns and Roses, were playing. The last present he ever bought me was an LP and if we liked a band together we would "go halves" on the money to buy their music.
My Dad remembers how Graham used to enjoy listening to music when he was in the bath. The music was so loud we could hear it all over the house. It used to make us all laugh.
My Dad recalls how our home was the focal point for Graham's friends, who would gather in the kitchen and fill the house with laughter. He remembers how Graham was always happy and funny and light hearted and willing to help, which meant he got on well with everyone.
He says that whenever Graham was asked to do anything, he always said "I will". This is one of my Dad's fondest memories.
My Dad recalls an occasion when Graham was 16 and playing snooker in the back room. He heard glass breaking followed by the sound of Graham running upstairs. Graham had smashed the glass in the sliding doors, which my dad had only just fitted.
He told him not to go out for the rest of the day. However, Graham managed to escape through a window and back out to play.
Running to work
Sometimes, Graham never took things too seriously. Spiritually, he was a practising Roman Catholic. He served as an altar boy in St Aidan's Church, together with his friend James Aspinall, who also sadly died alongside him at Hillsborough.
He was part of a Third World Group, too, with myself and the church that raised awareness and funds for the poor of Africa.
On leaving school, he was employed by Swintons Insurance in Prescot as a clerk. He worked hard and was always punctual. When he was training in Kirkby, he missed the bus one day. Instead of waiting for the next bus, in case he was late, he ran the five miles to make sure he got to the training on time.
Graham impressed his employer, who, on the day of the tragedy, phoned continuously to enquire about Graham's well-being. We did not have a car at the time of the disaster and so Graham's boss lent us his car for a month to make life a little easier for us.
Graham had a loving girlfriend, Janet. They were inseparable and very happy. They would often go down to the Albert Docks together and they each wore one half of the same locket around their necks.
She still puts flowers on his grave to this day. Then came 15 April, 1989.