Hillsborough stories: Sarah Louise Hicks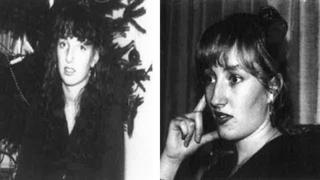 Sarah Louise Hicks, a student at Liverpool University, travelled by car from her home in Pinner, Middlesex with her father and mother - Trevor and Jenni Hicks - who both survived, and her younger sister, Victoria Jane Hicks, who also died.
This is the full statement to the inquests read by her father, Trevor Hicks:
Some family background: Jenni and I were both the eldest children of working class families from Teesside. We married on 24 June, 1967.
Sarah Louise Hicks was born on 10 April, 1970, which of course means that today would have been her 44th birthday. There were birth problems with Sarah, but everything ended well.
She was beautiful and we were chuffed, and of course we were new parents.
Victoria Jane Hicks was born on 20 July, 1973. Sarah, then just three, was delighted with her new sister, just as we were.
We were all at the 1988 semi-final at Hillsborough and went back in 1989, full of hope and aspiration of another trip to Wembley. Only Jenni and I made that trip to Wembley.
Jenni and I divorced in 1991, again, as a result of Hillsborough.
Sarah was attractive, sociable and had a lovely disposition. She had a wide group of friends, loved life and seemed to take everything in her stride. In modern parlance, she was "cool".
She was especially true in her academic life, where she was extremely clever - a classic A grade student.
She turned down a scholarship to Imperial in London and a place at Oxford, choosing instead to go to Liverpool University to read Chemistry. Haberdasher's, her school, and I were less than impressed!
Naturally gifted in maths and all the sciences, Sarah had quite an impressive art portfolio, which in part accounted for her being undecided whether to pursue medicine, pharmacology or architecture as a career.
'Loving Liverpool life'
Liverpool offered a foundation course for the first year that allowed a switch during the degree course - hence the decision to go there was not as daft as I had first thought.
She was loving life in Liverpool as an undergraduate, but of course she did not get to make the career choice.
As I said, Sarah was smart and streetwise, but she was also very gentle, very considerate and caring about the world and all its inhabitants, often showing compassion beyond her years.
She loved the chance to assist her friends and strangers alike.
Haberdasher's ran a scheme where senior girls had an afternoon a week to visit lonely old people for tea and a chat. Many girls saw it as a chore, but Sarah loved her lady, and she often bought the biscuits from her own pocket money.
Despite her relaxed disposition, she was also quite principled.
Once, we had a huge disagreement about private health insurance. I had renewed hers without discussing it with her, and I was firmly put in my place with the words, "I am 18 now and I can make my own decisions, thank you very much."
'Great contribution'
That conversation ultimately broadened into how she knew she was very lucky and, to a certain degree, privileged.
She went on to say that once, when she was on the university bus from the Carnatic Halls of Residence to the laboratory blocks, she often saw kids on the street corners of Toxteth and added they were probably just as bright as her but had never been given the chances she had.
I am still in touch with a close friend of Sarah's, who is now a consulting paediatrician. She maintains she would never have made it through Haberdasher's and her exams were it not for Sarah.
Sarah would have made a great contribution to the world had she not died at Hillsborough.
They [Sarah and Vicky] were very different, maybe, but they were very much a pair. They had their arguments, but they would defend each other to the death - literally, as it turned out.
'Feminine enclave'
They did many, many things together and their rooms were joined via an en suite bathroom that meant they could go from bedroom to bedroom unseen. That part of the house was theirs, with lots of teenage discussions (and I'm sure a lot of plotting).
A feminine enclave that was not readily opened to men, especially Dad.
It retained their perfume for many weeks after their death.
The loss of a child is one of the worst things that can happen to a loving parent. Loss of all your children is devastating. It is not that two is twice as bad. It's that you lose everything. The present, the future and any purpose.
All our hopes and aspirations were in our children and our expectation was that they would do better, achieve more and build upon the start that we had striven to hard to give them.
The most difficult thing for me is the sheer waste of Sarah and Vicki's life, of their talent and ability, but also their care and compassion for their fellow man.
Accuse me of rose-tinted spectacles, but they were good girls, attractive, and with promise, happy and full of purpose, but kind and considerate too.
We are justifiably proud of Sarah and Vicki. They lived together, they died together in horrific circumstances, supporting the team they loved.
They are buried together. Need I say more.
This is the full statement to the inquests read by her mother, Jenni Hicks:
I am speaking as the mother of Sarah and Victoria Hicks, and may I say the proud mother of Sarah and Victoria Hicks.
Sarah
I was 23 when I had you. I remember the midwife telling me I'd make all my mistakes on you and be a halfway decent mother by the time I had my second.
I remember being frightened to hold you in case you broke. I remember constantly checking you were still breathing.
I remember you as a toddler in your new red wellies, jumping in puddles. The bigger the splash the better.
At 18, you turned down Oxford and a scholarship to Imperial College, London, in favour of Liverpool, a city you had learned to love through following its football team.
I remember you going on the Bob Geldof march and coming home with your feet covered in blisters.
I remember those heated debates with your Dad about unemployment, poverty, social justice, whatever. No longer the little girl in red wellies.
And, throughout it all, I remember the way you looked after Vicki.
You always, always looked after your little sister. Even at the very end.
Sarah and Vicki
You were two bright, beautiful, innocent young women. I left you as you went into a football ground and a few hours later you were dead.