Sacked police officer appeals against dismissal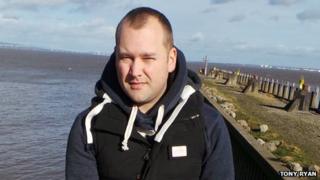 A police officer sacked over allegations that he posted "offensive" comments online has said he will appeal against his dismissal.
Former PC Tony Ryan has denied using an anonymous Twitter account to criticise Avon and Somerset Police, and said his offers to prove it were ignored.
The 33-year-old was dismissed last week after an internal police investigation.
The force said it would not tolerate any inappropriate comments being made on social media by its staff.
'Up to scratch'
Ch Insp Kevan Rowlands, from the force's Professional Standards Department (PSD), said: "Our attention was drawn to inappropriate and offensive comments being made on social media between March and October last year, which were suspected to have been posted by a serving police officer."
Tweets from The British Cop account, cited by the force in a report of evidence sent to Mr Ryan, include messages such as:
"I think the internal complaints investigators work harder to hurt their own colleagues than the job does to support the 99% good ones."
"Going to Bristol…Let's see if Gargan's bobbies are up to scratch." [Nick Gargan is the force's chief constable]
"Literally no free staff across an entire district at 10pm last night."
"Taking a statement & again having to apologise for how run down and worn out the station is…"
Final warning
Mr Ryan, who lives with his girlfriend in Portishead, said investigators refused his offer of full access to his house, car, computer, mobile technology and social media accounts in search of proof. Avon and Somerset Police said it had not taken up Mr Ryan's offer of access to his property.
Mr Ryan said he was not interviewed as part of the six-month inquiry. The force said although Mr Ryan was not interviewed he had been spoken to previously as part of a final written warning disciplinary procedure.
"I feel as though I've been linked to this [Twitter] account purely because they have an opinion of me and how I might think and behave," Mr Ryan said.
He said he had a reputation for being "quite outspoken", both online and at work, as well as having a history with depression which has led to time off work. Avon and Somerset Police said the dismissal had been "on the basis of evidence", and denied that it had anything to do with his medical background.
Mr Ryan had served with Avon and Somerset Police for 10 years and said he would now appeal to the region's Police and Crime Commissioner (PCC).