Hedge fund manager 'in £42,550 train fare dodge'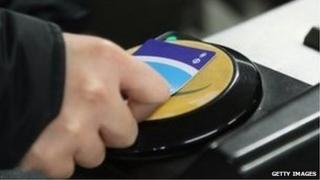 A city executive is believed to have dodged paying £42,550 in train fares by exploiting a loophole which meant he only paid a third of the journey cost.
The hedge fund manager from Stonegate, in East Sussex, who has not been named, had an Oyster Travelcard and regularly travelled to and from London.
Southeastern said he commuted from Stonegate to London Bridge, where he caught another train to Cannon Street.
His Oyster was only used at Cannon Street so he paid a maximum £7.20 fare.
'Tapped out'
The rural station at Stonegate has no ticket barriers, so the man was able to avoid "tapping in" with his Oyster card, and only "tapped out" through the barriers once he reached Cannon Street.
He also managed to avoid ticket inspectors on the train, Southeastern said.
The then maximum fare of £7.20 was incurred when a passenger "tapped out" through a barrier without having "tapped in", a Southeastern spokesman said.
The executive was eventually caught in November last year by a ticket inspector standing next to the barriers.
He paid back the £42,550 in dodged fares, plus £450 in legal costs, within three days as part of an out-of-court settlement.
Southeastern said it believed he had been dodging the fare for five years as his last annual season ticket from Stonegate expired in 2008 and within five days of being challenged he renewed his lapsed ticket.
The spokesman for the company said: "We recognise that this issue is important to customers who pay their way and expect the system to treat them with fairness by acting against people who don't buy tickets."