Manchester: The 'ever-reforming' city united by sport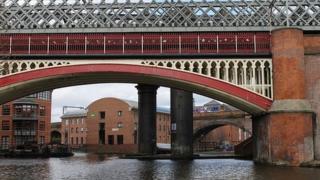 Today, Manchester is perhaps best known the world over for its football teams.
Millions of fans in all corners of the globe wear the red and blue favours of United and City. On match days, tens of thousands of people pour into the city, filling its hotels, and spending lavishly, simply to watch the teams' games.
But all this is new. Two hundred years ago Manchester was famous - infamous even - for very different reasons.
In the early 19th Century Manchester became the `shock city' of the industrial revolution: an example of what could be achieved when the new systems of mechanical, steam-driven production were harnessed to factory labour.
It created a new kind of city: its skyline dotted with factory chimneys belching out steam and smoke, its workers housed in deprived conditions, in slums which clung close to the workplace, and where nature itself seemed in retreat.
It was a place where trees seemed to have vanished. But, it was a city which also yielded great wealth to the investors and entrepreneurs who flocked to its opportunities (many of them from Scotland.)
What had been a mere dot on the map in the mid-18th Century, had become an eye-catching source of wealth, commercial activity and enormous curiosity by the mid-19th Century.
Visitors came to Manchester to see what was unfolding. It attracted novelists, political analysts, social investigators and activists - most famously of course Karl Marx and Friedrich Engels.
What they scrutinized was the rise of King Cotton and its impact on its labour force.
Although the new Manchester mills, their power and raw materials fed by new canals, and, later by railways, were astonishingly new sights, and though the city developed a string of new heavy industries, Manchester established its fame as a commercial centre.
Some of the finest buildings which survive are the old warehouses which received, then dispatched, growing volumes of textiles.
The city was the focus of a network of industrial and commercial activity which brought together dozens of neighbouring textile towns in a tightly-knit web of commercial activity.
Cotton flowed in, via Liverpool, from the slave plantations of the US South, later from Egypt, and finished textiles were dispatched to clothe the world in cheap and durable Lancashire cotton fabrics.
Manchester's population grew at a phenomenal rate (at a faster rate in some decades than London itself.) The consequent human problems - of housing and health, of sanitation and water, of education and governance - were the very problems faced by today's rapidly-expanding urban areas in Africa and Asia.
Manchester's merchants and manufacturers, moving out to more distant suburbs when their wealth allowed and when new communications made it possible, were the early advocates of Free Trade. Their creed was even enshrined in the city's Free Trade Hall - now a hotel - the only building to be named after a principle rather than an individual.
But, like other new industrial cities, booming Manchester required a new system of government. The emergence of local government, providing for and monitoring all the main services required by the city's in habitants, saw not only the rise of local democracy, but enshrined the process in the city's magnificent Town Hall.
It was a city that also had a persistent radical streak in its political bloodstream.
From the late 18th Century onwards, Manchester spawned a radical and dissenting tradition: political groups of men and women demanding their rights, social change and political reform - with the violence at Peterloo in 1819 becoming a motif in the city's radical culture.
It was a region that spawned trade unions, and women suffragism, the co-operative movement and vegetarianism.
The Pan-African Congress held its first post-war meeting in Manchester in 1945.
By then, the city's population had begun to change. Industrial Manchester had initially attracted people from its immediate hinterland. But by mid-century, it had become home to large numbers of Irish immigrants, and later Jews from Germany and Eastern Europe.
In the 20th Century, the arrival of new settlers, from the Caribbean, Asia and Africa gave the city its modern multi-cultural face.
I saw at first hand, as a school boy in Moss Side in the 1950s, West Indians moving into areas recently dominated by the Irish. And the process has continued subsequently, with new generations of immigrants arriving and settling and making their local mark.
Where I used to stand as a boy at Old Trafford, among men in cloth caps, you now find men wearing Sikh turbans.
The architecture of Manchester remains a monument both to the city's industrial and commercial past, and to the civic pride of the city fathers.
Their offices, banks, libraries, museums, the Royal Exchange, all bear witness to their drive to create not only a prospering local economy which reached out to the far edges of the world. But they also sought to create a more civilized and culturally-rooted society at home.
Not to be outdone by London's Great Exhibition of 1851, in 1857 Manchester organized a massive art exhibition.
On a site at Old Trafford a major exhibition building was constructed, and thousands of works of arts were displayed; more than one million visitors attended. One by-product was the establishment of the Halle Orchestra.
Manchester's radical streak also bore fruit in the most unlikely of ways.
Local businessmen, keen to promote education, but obstructed by the political/religious restrictions on higher education, founded Owens College which evolved into Manchester University.
Today, that University boasts a string of Nobel Laureates, and boasts a list of major scientific innovations, from modern computing and nuclear physics, through to Graphene, predicted by most to be the wonder material of the 21st Century.
What had started as a college to serve local industrial and business needs, has become a globally-renown University.
And so it is with its football teams. Clubs that started as teams for local working men, are now famed the world over.
They have also become major industries in themselves. Owned by major international financial concerns, managed and marketed as state-of-the-art commercial concerns, Manchester United and City occupy sites closely linked to Manchester's industrial past.
United looks out across the modern complex that is Media City, which once was the Ship Canal and Trafford Park. Manchester City have occupied a decayed region of the eastern city, revitalizing it via a massive investment in sports and educational facilities.
It is as if football has become a powerful force in transforming a city and propelling it into a new economic future.
The shock city of the industrial age - the HQ of the world of Lancashire cotton - has gone forever. But the revitalized and ever-reforming city of Manchester maintains its image as one of the world's most arresting urban areas.
Professor James Walvin, is the presenter of Manchester: A City United, which airs on BBC World Service (English) on Saturday at 8.06 GMT and Sunday 20.06 GMT.