Hillsborough stories: Stuart Paul William Thompson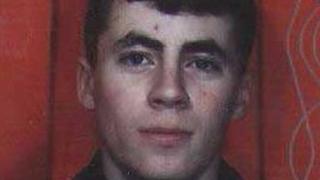 Stuart Paul William Thompson was an apprentice joiner from Liverpool, who travelled by car to the match with his brother, Martin Thompson, and friends Simon Hughes and Jason Kirwin, all of whom survived
This is the full statement to the inquests read by Martin Thompson, his brother, on behalf of their mother, Winifred Thompson:
Legal representative Ms Leanne Dunne on behalf of his father, Michael Thompson, who has now passed away:
I, Martin Thompson, on behalf of myself and my mother Mrs Winifred Thompson, will say as follows:
As you have just heard, Stuart Thompson was born on 17 September, 1971. He was my brother and he was my friend. He was only two years younger than me and one of five siblings.
As a group of friends, we all hung out together, all ages.
We shared the same room and my earliest memories of him were playing with soldiers and play fighting.
Snakes in the post
I remember once getting up on Christmas morning and he got up before me and opened my presents and then realised afterwards and opened another set and he was made up.
Stuart was into nature and had some really exotic pets. He once sent off for some snakes in the post without telling my Mum or any of the family. You can imagine the shock my Mum got when she opened this box.
Then, when he got bored with the snakes, he swapped them for a ferret, didn't tell my Mum again, and kept it under the bed. This thing stunk, and one day she came in thinking 'What the hell is that?' That's the sort of lad he was.
He liked fishing too. He once bought some maggots and didn't realise they would turn into flies. He kept them in the fridge, once again without telling me Mum, with the lid off. These flies were flying around the house.
He liked music and we all shared the same tastes. He liked The Jam, Peter Gabriel, and we often swapped albums in those days and played them in the second bedroom.
He'd just started taking driving lessons before Hillsborough. He wasn't the most academic person but he did love sports. He played a lot of cricket and football and technically he was a good footballer.
'Very close'
We used to go to a lot of football matches back then. It was about 90p, so it wasn't £50 like it is now, so kids could go.
He went to his first football match when he was seven, against Stoke, with my older brother Richard, who, as you just heard then, shared the same birthday even though they were seven years apart.
We were very close and we often looked out for each other as a group and as brothers. The year before Hillsborough, I went off travelling. I went around Europe and America and I came back with all these tales and he really wanted to do this.
But when I came back, it was hard to get a job, so I told him, 'As you're leaving school, get an apprenticeship first, become something and then move on and do what you want', so that's what he did.
But before he did that, he left school and he went to northern France with a group of lads and they all just slept on the beach for four days in sleeping bags. That was about the sum total of his only journey abroad.
'Thoughtful and generous'
He had the world at his feet at the time of his death. He was an apprentice joiner and he was determined to be a success.
I knew that he would have been, because he was a practical person, creative and good hand-eye coordination. He made a toolbox, which I still have to this day in my garage.
He had a mature attitude for a 17-year-old and he was never wrong - he knew right from wrong. He believed in being fair and just.
He was conscientious, never late for work. I don't think he ever had a sick day and he wanted to excel in his career.
My Mum would like to add he was a very thoughtful and generous son. He would often do the shopping and go and help my gran. He was very highly thought of, very popular and very well liked.
Stuart left school the year before, as I said, and he was moving on to the next stage of his life. He was no longer a child, but he wasn't yet an adult. He didn't have time to blossom.
He was dearly loved by all his family and all his friends.