Matthew Jordan: Boat owners urged to aid missing student search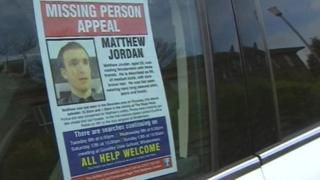 Boat owners are being asked to join in the search for a Teesside student who is missing in the Lake District.
Matthew Jordan, 20, from Middlesbrough, went missing in Bowness-on-Windermere in the early hours of 27 March after becoming separated from friends.
His mother Clare appealed to boat owners to help in a search Windermere over the weekend.
Police have been joined by hundreds of volunteers in a search of the area in and around Bowness.
Scent trace
Mrs Jordan, who with her husband Bob has been distributing leaflets to residents and holidaymakers, said: "I can't believe it's been two weeks since we began searching for Matthew.
"We've asked boat owners to help us over the weekend with a search of Windermere. Not just boats but canoes, kayaks, anything, just so we have plenty of people out there helping to look for Matthew.
"All I can do is from the bottom of my heart ask that anyone who knows anything to please come forward, even if it's anonymous.
"All we want to do is take Matthew home with us. We just need to find him."
Police said a search dog had picked up a scent trace, which ended abruptly on Rayrigg Road in Bowness, about 200m (650ft) from the banks of Windermere.
Mrs Jordan said it was unclear whether her son had been picked up by someone in a vehicle or whether he had made his way back into the centre of Bowness or walked towards the lakeside.
Matthew is described as 6ft tall, of medium build, with dark brown hair. He was last seen wearing a navy long-sleeved shirt, jeans and grey pull-up boots.