Navitus Bay wind farm dismisses noise criticism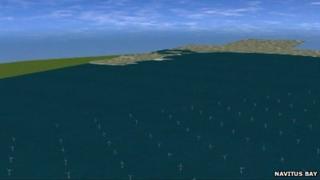 Developers of a £3.5bn wind farm off the south coast of England have dismissed claims about noise from the turbines as "factually inaccurate".
Navitus Bay wind farm would be located between Dorset and the Isle of Wight and would be visible from the coast.
Opponents say new research shows noise levels would be higher than the developers' estimates.
A planning application for 194 turbines, up to 200m (650ft) high, was submitted to the government earlier.
The developers say it could generate enough power for up to 700,000 homes and contribute more than £1.6bn to the economy in its 25-year lifetime.
Poole and Christchurch Bays Association, which represents residents groups opposed to the development, presented its claims to Bournemouth councillors at a meeting earlier.
'Not significant'
Dr John Yelland, an opponent of the scheme who holds a physics PhD from Oxford University, said Navitus Bay developers had incorrectly calculated how loud the turbines would sound on the shore, as estimates of noise levels have been based on noise travelling over land rather than water.
"The noise impact assessment is inadequate. Sound travels very differently over water than it does over land," he said.
He maintained there would be a "rumbling" noise of 41 decibels heard in Bournemouth, which he likened to a household fridge, but at a lower frequency.
The company disputes the claims, which it said contained "fundamental factual inaccuracies".
It said no local authorities where other offshore wind farms are located had reported issues with noise.
Navitus Bay project manager Stuart Grant said he was "disappointed" the company had not been asked to take part in the council meeting.
"There are huge benefits for renewable energy production in the UK and also for the local economy with jobs and investment," he said.