Why devolution to England's cities is a Game of Thrones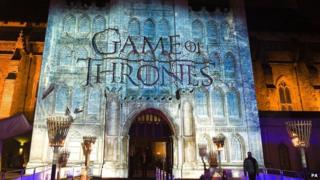 It was like a Game of Thrones moment.
But rather than a warning of the dread dark winter, this had a real political touch: "Devolution is coming."
The Ned Stark character on this occasion was the leader of Nottinghamshire County Council, Labour's Alan Rhodes.
"I welcome greater devolution," he told me.
"Undoubtedly, we can find local solutions to local issues in a much more effective way than Whitehall ever could."
Unlike Ned Stark, Alan Rhodes won't lose his political head over this. But his next comments might stir things up.
"We need more tax-raising powers and planning ought to be left entirely to local government. Whether it's education or social care, we know what our local needs are."
So why is devolution for England being scripted on the political agenda?
Back to a Game of Thrones plot line: politicians in England are already looking beyond The Wall -Hadrian's Wall - and weighing up options should the Scots vote for independence.
Whatever the result, local government leaders in England expect any new constitutional settlement to beef up regions again.
Lord Heseltine kicked the ball rolling in his 2012 report - No Stone Unturned - on giving so-called city regions more economic clout.
"Besides neutering local leadership, the monopoly of Whitehall is dysfunctional on two counts," he said.
"First, too many decisions are taken in London without a real understanding of the particular, and differing, circumstances of the communities affected.
"And second, with responsibilities divided up between policy departments, no-one in government is tasked to look holistically at the full range of issues facing a particular area."
The Labour leader Ed Miliband warmed to the English devolution theme in a significant speech in Birmingham.
He also wants more powers for our big cities. He proposed creating a minister for each English region, acting as a bridge between Whitehall and the region.
If it sounds familiar, then it is. During the last Labour government, the East Midlands had its own regional minister. Remember Phil Hope and Gillian Merron?
The coalition scrapped Labour's regional apparatus and replaced it all with more localised business-political organisations, the Local Enterprise Partnerships, to steer economic regeneration.
"Michael Heseltine's review called for a massive devolution of funding from Whitehall to the cities," the Labour leader told his Birmingham audience.
"But David Cameron and George Osborne allocated just £2bn. The best report this government has produced has been the one they have most ignored. We can and must do a lot better than that."
What is uncertain in all this is whether devolution to city regions, like greater Nottingham, is welcomed by the Treasury or whether this idea will be squashed once the Treasury takes fright at losing power over the purse-strings.
As the Stark family learnt the hard way in Game of Thrones, trying to win control over a southern-based political power block may not have a happy ending.