Council funding cuts turn friends into polar opposites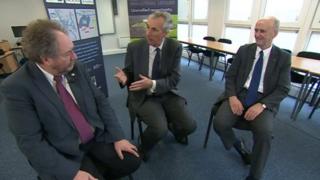 Philip Atkins and Roger Lawrence are lifelong friends.
They first met as schoolboys at Denstone College in north Staffordshire, more years ago than either of them care to recall, and their very different career paths have eventually led them in remarkably similar directions.
They both now lead large local authorities which find themselves the closest of collaborators on the most ambitious of projects - i54, where Staffordshire meets Wolverhampton.
Close to the border between our biggest shire county and one of our big city authorities is the Midlands' most ambitious economic regeneration venture.
The i54 site extends over 226 acres. It's where cutting-edge manufacturers, including Moog and Jaguar Land Rover, are creating over 2,000 jobs - JLR alone is spending £500m on its giant engine factory there.
At the heart of the initiative is a partnership between three local authorities: South Staffordshire is the district authority responsible not only for the planning of the site but also for the local business rates which will go into the i54 mix.
Political opposites
But ours is the story of the two councils who are co-funding the site in general, and in particular, the construction of a new junction 2 on the M54 motorway, due to open at the end of this year at a cost of £38m.
Partners though councillors Atkins and Lawrence may be, they are also political polar opposites.
As Staffordshire's Conservative leader, Mr Atkins has responded to year-after-year of budgetary austerity by embracing the process of merging and sharing services.
He says local government has a way to go yet in terms of working smarter and forging new partnerships like the ones he is working on with the police and healthcare agencies.
His is an upper-tier council which is responsible for strategic services like education, refuse disposal and highways. The authority is maintaining a freeze on council tax.
Labour-controlled Wolverhampton, by contrast, is increasing its council tax by just under the 2% that would otherwise have triggered a referendum. It is one of the councils parodied by Local Government Secretary Eric Pickles as "democracy dodgers".
Leader Roger Lawrence points out that his authority faces a vastly heavier burden supporting concentrations of the weakest and poorest in the community than more affluent areas like Staffordshire; and that they also have proportionately less revenue-raising potential.
Contrasting philosophies
He was recently forced to announce 2,000 council jobs losses as part of £123m savings over five years.
No wonder the two councils display such contrasting philosophies.
Mr Atkins sees the evolution of local government as a continuing process, Mr Lawrence makes clear that in an ideal world [which for him includes a Labour government] he would hope to reverse at least some of the austerity measures he himself has introduced.
Local library opening hours have been reduced to 24 a week but it would obviously be a relatively straightforward matter to restore full-time opening when and if the council's budgets allow.
I was delighted when councillors Atkins and Lawrence accepted my invitation to meet me at i54 to air their differences and consider the way forward.
What followed was a stimulating and thought-provoking conversation which you will be able to see for yourself.
It will be one of our main talking points in this weekend's Sunday Politics Midlands.
We will be on air at the later time of 14:30 BST Sunday 13 April 2014 on BBC One.
The council leaders were brave enough to join me. I hope you will be too.