Peterborough and Stamford NHS services tender plan to stem deficit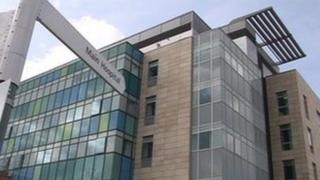 Services offered by a cash-strapped NHS trust could be privately managed under rescue proposals from the UK's heath watchdog, Monitor.
Peterborough and Stamford NHS Foundation Trust has an annual deficit of £40m and was described by Monitor as "not financially sustainable".
A competitive tendering process to manage services at its two hospitals could begin in the summer.
A spokesman said "whatever the outcome" services would remain within the NHS.
The newest of the trust's two hospitals, Peterborough City Hospital, was opened in November 2010 at a cost of £298m.
'Maximise value'
But a 33-year private finance initiative (PFI) contract to fund its construction is costing more than £40m a year to repay, prompting concerns from the regulator, Monitor.
It appointed a Contingency Planning Team (CPT) which concluded in September that the trust was "clinically and operationally sustainable, but not financially sustainable in its current form".
The CPT made a number of recommendations including whether its assets could be better managed to "maximise the value for patients and taxpayers from the use of trust's assets".
A competitive tender plan for running the trust's services has now been submitted to Monitor.
Potentially this could involve a private company taking over management of the NHS services in a similar way to Hinchingbrooke Hospital in Cambridgeshire, or a merger with other hospitals.
Dr Peter Reading, the trust's interim chief executive, said: " At this stage we would not discount any option presented, however the tender process is designed to identify those options which would maximise the use of the hospitals."
"Whatever the outcome, services would continue to be run from Peterborough City Hospital and Stamford Hospital sites," he added.