Jockey Sharron Murgatroyd's 1991 fall 'led to her death'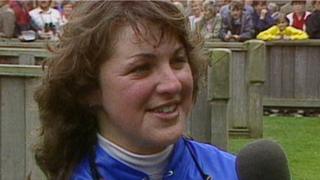 A fall during a race more than 20 years ago contributed to a former jockey's death from pneumonia, a coroner has concluded.
Sharron Murgatroyd, 54, of Kennett, near Newmarket, died in West Suffolk Hospital on 28 March.
She broke her neck during a fall at Bangor-on-Dee in August 1991 and was left paralysed from the neck down.
An inquest in Ipswich heard Ms Murgatroyd's fall contributed to her death.
Suffolk coroner Dr Peter Dean concluded she died of pneumonia.
'Ambition never realised'
During her racing career, Ms Murgatroyd had ridden seven winners on the flat and seven over jumps.
On her website, she described her world being "turned upside down" by the fall.
She spent three years in a spinal injuries unit before returning home to Newmarket.
"Any aspirations of becoming 'Champion Lady jockey' were erased in the blink of an eye," she wrote.
"My dreams and ambitions would never be realised - I would never ride or walk again, but neither would I just sit in a wheelchair.
"I was determined to prove there should be no restrictions in my new life, after all I was still the same person - I was still Sharron!"
She went on to write four books and raised funds for horse-racing charities.
A BBC Matter of Fact documentary in 1998 showed she relied on a team of round-the-clock carers at her specially-adapted home.
She continued to attend race meetings around the country and said she had the support of her racing colleagues.