East Midlands Ambulance Service misses care targets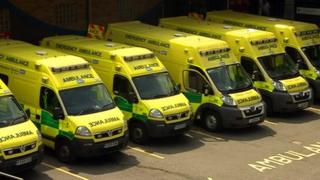 East Midlands Ambulance Service (EMAS) is failing to meet four out of six main standards, an inspection has found.
The Care Quality Commission (CQC) found problems including the care and welfare of patients, safety and suitability of equipment and staffing levels.
On one occasion an ambulance had to be jump-started by a patient's family using their own car, inspectors heard.
The service said it was improving under new management and investing in vital areas.
In May 2013, the service was fined £3.5m for missing response time targets for a third successive year.
It was one of only two of England's 10 ambulance trusts to fail to get an ambulance to 95% of all life-threatening emergencies within 19 minutes.
The (CQC) carried out the unannounced inspection in January.
It found there were not enough vehicles or experienced staff, and many complained of being overworked with new recruitment not keeping pace with demands.
Staff told inspectors they did not always have access to equipment they needed and availability of vehicles was a "big issue".
One worker said roadworthiness checks were sometimes missed due to time pressures and once an ambulance battery went flat, requiring the patient's family to jump-start the vehicle.
Another said: "We need more resources, more staff. There is nothing more frustrating than holding on to a call.
"At the end of the day we have targets, but they are people waiting for an ambulance."
Improvements being made
Richard Henderson, the trust's director of operations, said: "We have plans in place to address each of these areas."
He said the trust had 110 more frontline staff than a year ago and planned to increase staffing further.
"Alongside that, we have plans in place to address the vehicle and equipment issues and we are confident we do have the correct number of vehicles and equipment across the trust," he said.
Inspectors said there had been improvements since their last visit. Standards of infection control were being met and a good complaints system was in place.
Concerns about response times are being dealt with by the Trust Development Authority, which oversees the service.
New interim chief executive of the trust, Sue Noyes, began in October and said meeting targets was a priority.