Hillsborough stories: Gary Collins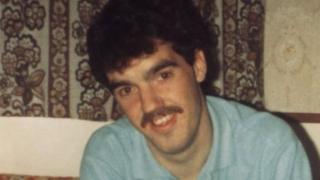 Gary Collins was a quality controller at a food factory from Liverpool who drove to the match with friends Martin Malone and Henry Clarke, both of whom survived
This is the full statement to the inquests from his father, John Collins:
I am the father of Gary Collins, who died at the Hillsborough disaster on 15 April, 1989. He was 22.
I make this statement at the request of the coroner with a view to providing some personal background about my son. This statement is made on behalf of my whole family, including, in particular, my wife Evelyn, my son Ian and my daughter Tracey.
Gary was born on 7 August, 1966 and was the loving son of Evelyn and I. He lived with his Mum and I, his brother Ian and his sister Tracey in our family home in Bootle, Liverpool.
Gary was a very happy child and was the middle child of three. We all have so many happy memories of a great family life together.
After leaving school, Gary began his career. After a few years of working at other various jobs after leaving school, Gary got a job as a quality controller for a food factory. He loved that job. For him, the added bonus was that he met a great bunch of people with whom he became good friends.
Gary loved to meet new people and to see new places. He was a popular lad and always had lots of friends. He had a true heart of gold.
Gary was just 22 years old when he died and was just starting out in his career. He had his whole life ahead of him and was excited at the prospect of what his future would hold.
'Family of Evertonians'
Outside of work, Gary's passion was football. Coming from a family of Evertonians, it was quite a surprise when Gary announced that he wanted to support Liverpool Football Club!
He loved the club and supported Liverpool from when he was a youngster, going to as many home and away matches as he could possibly get to with his friends.
There was always plenty of friendly banter in our house whenever Liverpool played Everton and I used to joke with Gary that I couldn't understand how he had ended up a Red when we were all Blues!
Gary had a great relationship with his brother Ian and his sister Tracey. He was adored by them both and it was lovely to see how close they were as siblings.
Ian and Gary were typical brothers and were always messing around and making fun of each other - if Gary was here now, I'm pretty sure that Ian would be making fun of the terrible moustache Gary sported back in 1989!
Ian adored Gary in all his grumpy, funny, playful, serious, curly hair and moustachioed glory. As children, they loved to slide down the street in the ice in the winter and would play out in the snow together.
They fought like cat and dog, but if Ian was ever in trouble Gary would step right in without hesitation to defend his little brother, something for which Ian is eternally grateful.
Through the good times, the bad times, the laughs, the arguments and the football rivalry, they remained the best of friends.
'Excited for the match'
As Evelyn waved Gary off on the morning of 15 April 1989, saying her last words to him, 'Good luck, son, hope they win', he was so excited for the match and couldn't wait to get there to see his beloved Liverpool FC in the semi-final.
We had no idea that this would be the last time we saw our beloved son alive. It was the most heartbreaking day of our lives as we learned that our precious son, Gary, would never be coming home.
Each time I see football scarves hanging on trees as a tribute to Gary and the 95 others who lost their lives at Hillsborough or 'Justice for the 96' stickers on pelican crossing posts, it stops my family and I in our tracks.
Gary's memory is with us each and every day of our lives and it breaks our hearts even to write this statement. Gary was a dearly loved son, brother, nephew, cousin and grandson.
'Forever loved'
Had he still been with us today, Gary would also have been a wonderful uncle to his three nephews, Louis, Ellis and Shea and to his beautiful niece, Marcie, who he sadly never had the chance to meet.
It breaks our hearts that Gary never had the opportunity to become a father himself, he would have made such a fantastic Dad, I have no doubt of that.
It is difficult to put into words just how deeply loved and missed Gary is by his family and friends and he will be forever loved and missed by us all.
To think that the Hillsborough disaster could have been prevented is excruciating to live with. The fact we will never see Gary reach his full potential in life is the cruellest thing life has ever dealt us.
Not a day goes by that my family and I don't think about Gary. Our beautiful son, Gary, will forever be in our hearts.