Mark Duggan's mother allowed to challenge inquest conclusion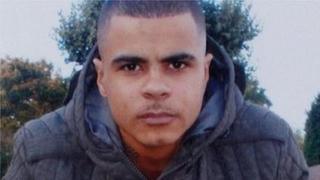 An inquest's conclusion that Mark Duggan was lawfully killed when he was shot dead by police can be challenged, it has been ruled.
Mr Duggan, 29, was shot in Tottenham, north London, in August 2011.
A judge has ruled that his mother Pamela Duggan has "an arguable case" that should be heard by the Divisional Court in London.
The Duggan family said they are "pleased" that they would be able to "put forward further arguments".
High Court judge Mr Justice Mitting said he was granting "limited permission" to apply for judicial review.
A full hearing will take place at the High Court at a later date.
A statement from the Duggan family said: "We the Duggan family are pleased that the judge has granted permission in respect of the coroner's direction to the jury.
"We look forward to the opportunity that we now have for further arguments to be put forward on our behalf in respect of the conclusion of lawful killing."
The inquest jury concluded in January that Mr Duggan did not have a gun when he was shot by officers who surrounded a minicab he was travelling in.
He was shot during an attempt to carry out an arrest after firearms officers stopped the taxi, the inquest was told.
There were angry scenes outside the court following the verdict and there were shouts of "murderers" as Met Police read a statement.
Mr Duggan's death sparked riots in Tottenham which later spread across England.
His aunt Carole Duggan said he had been "executed".
Mr Justice Mitting said the case should go before a panel of judges at the Divisional Court in London, including either the Lord Chief Justice, Lord Thomas, or the President of the Queen's Bench Division, Sir Brian Leveson.
The decision was made last month but was revealed to the media on Tuesday.