Devon and Cornwall Police misses crime reduction target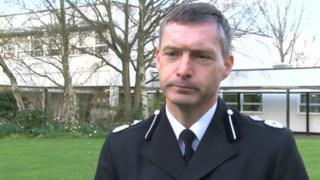 Devon and Cornwall Police has failed to hit its crime reduction target.
The force had been looking for an overall 2% reduction, but the figure remained more or less unchanged last year.
Deputy Chief Constable Bill Skelly said: "We've had a shrink in our resources, we've had a reduction in the number of people we have, and in the money we have."
He said there has also been an increase in demand overall on the force.
'Force has progressed'
Among the figures released by Devon and Cornwall Police, crime levels have gone up in domestic abuse (19.4% or 1,603 crimes), sexual offences (15% or 284 crimes), violence without injury (14.6% or 1,260 crimes), and shoplifting (13.5% or 958 crimes).
The force has seen reductions in robbery (12.3% or 51 crimes, less than one per day occurring on average), vehicle offences (11.1% or 692 crimes), non-dwelling burglary (8% or 384 crimes), dwelling burglary (6.6% or 221 crimes) and criminal damage (6.1% or 933 crimes).
Mr Skelly said: "There are some areas we would like to improve and do better on for the year ahead. We've agreed a set of measures that will take us forward."
Police and Crime Commissioner Tony Hogg said: "Last year I asked the chief constable to cut overall crime by two per cent and, while I would have preferred to be talking today about a drop in the number of offences, I acknowledge the force has progressed at a time when it has less money and fewer people.