Northern Rail Leeds and Newcastle depot staff to hold second strike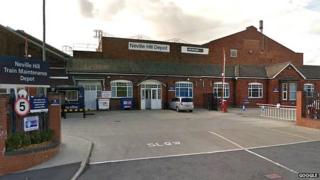 Rail maintenance workers at depots in Leeds and Newcastle are to hold a six-day strike in a dispute over plans to regrade their jobs.
Staff at Northern Rail's depots at Neville Hill and Heaton will stop work at 18:59 BST on Thursday 10 April until 18:58 BST on Wednesday 16 April.
The strike, by 42 members of the Rail, Maritime and Transport (RMT) union, follows a 48-hour walkout in February.
Northern Rail said there would be "no disruption" to normal services.
'Stubborn refusal'
The strike will be held alongside a continuing overtime ban at the two depots, the RMT said.
RMT acting general secretary Mick Cash said Northern Rail had "failed to recognise the multi-skills and hard work this group of maintenance depot drivers bring to the Northern Rail operation".
The duties carried out by RMT members were "complex and demanding" and were becoming more so, said Mr Cash.
"This dispute has been forced on us by the management's continuing and stubborn refusal to take the real nature of these jobs into account through the regrading process," he added.
Adrian Thompson, HR director for Northern Rail, said the dispute was "not of our making".
"The RMT is yet again making unrealistic and unsubstantiated demands without any reasoning.
"We have offered practical solutions to help resolve this unnecessary dispute but the RMT has flatly dismissed these.
"We would ask the RMT to call off this action and agree to discuss the solutions already offered."
The RMT said it "remained available for talks".