Hillsborough stories: Christopher James Traynor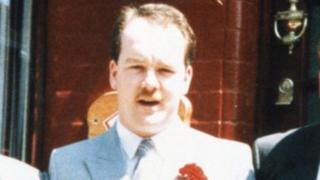 A joiner from Birkenhead, Christopher James Traynor travelled with friends, including David Leonard Thomas and his younger brother Martin Kevin Traynor, who also died.
This is the full statement to the inquests from his sister, Theresa Arrowsmith:
I, Theresa Arrowsmith, sister of Christopher James Traynor, will read this statement on behalf of the Traynor family.
Christopher was born at home in January 1963. He was the third of five children born to James and Joan Traynor.
Christopher grew into a lively character. From an early age, he was never shy. As a toddler, he would constantly sing 'Downtown' by Petula Clark, and Beatles records, even though he didn't know all the words.
Christopher was always full of life. When he was a teenager, he would often go and do the weekly shop with our mother and return with dog food, although he did not have a dog at the time, telling our mother, 'One day I will have a dog', and he did. He loved nothing more than dressing his dog, 'Sheba', in Liverpool shirts.
He was a constant joker. When it was his younger brother Paul's 21st birthday, Christopher bought a brand new watch as a gift, but decided in jest to wrap an old one for Paul while he wore the new one. He didn't tell Paul about the prank for hours.
Another example of his humour was when his future brother-in-law came for tea for the first time. Christopher told him, 'Hurry up and eat your tea, because Carol, our next-door neighbour, wants the dishes back for her husband's tea as we only borrowed them because you were coming for tea!'. Barney, whose real name was John, didn't know how to react. He always saw the fun side of life.
Christopher attended St Joseph's Catholic Primary School and then St Werburgh's Middle School, following which he refused to go to the local grammar school, even though he passed the 11 plus, and instead went to the local comprehensive, St Hugh's Boys School.
Christopher left St Hugh's in 1979 and then took an apprenticeship at Cammell Laird shipbuilders as a ship's joiner. He obtained a distinction in joinery.
He was a talented craftsman who took great pride in his work. He made several pieces of furniture for his family which are still in use today.
During his time at Cammell Lairds, he worked on Type 42 destroyers, including HMS Liverpool and HMS Edinburgh, which have both recently been decommissioned, as well as the oil rig the Sovereign Explorer, which was commissioned for use in Canada and also AV10 which was a platform rig for the Irish Sea.
He was later made redundant and eventually gained employment with the local council at Wirral where he worked until his death.
He was a devoted union man (UCATT) and was the shop steward for the council right up until the day before, on 14 April 1989, when he was still negotiating terms and conditions with the director of housing on behalf of the union members.
After his death, Liverpool City Council Joiners made and dedicated a bench in his name, which was placed in a home for special needs adults, where our father worked.
'Love of music'
I remember that Christopher had a love of music that stayed with him as he grew older. He enjoyed going to watch live music, including The Who, The Jam, Teardrop Explodes, and many others.
Christopher was a member of the Shaftsbury Boys Club from about the age of 6 or 7. He used to play football for the under-11s right through to the under-16s. He was also an active player and committee member of the local amateur football club.
His love of football started from an early age and he often went to see his local team, Tranmere Rovers, play home and away, as well as Everton and his beloved Liverpool. He also had a soft spot for Manchester City, as Francis Lee was his favourite player.
I remember he took great pride in his appearance, and on a couple of occasions decided to keep the clothes he purchased as presents for his brothers for himself as they were too nice to give away. He would also go back to the shops and purchase something else for them.
Christopher enjoyed travelling and often visited me wherever I was based with my husband, who was in the armed forces. We lived around the world and, when Christopher visited, he often took summer jobs picking fruit or doing general farm labour, seizing the opportunity to earn a little bit of extra pocket money.
He was never afraid of hard work, even at an early age. Unbeknown to the family, he was saving his money to pay for driving lessons and buy his first car, a Hillman Imp.
On one occasion when Christopher and Lizzie, his wife, visited me in Germany, Christopher decided to make my son Carl a bowl of Weetabix and left Carl to feed himself.
Carl was only 14 months old at the time. Carl painted the kitchen with the Weetabix, including the new curtains, which Christopher took down and washed and managed to shrink. It was hard to be cross with him.
'Caring and gentle'
In 1985, when Christopher and Lizzie had met, and they later married in 1987, they bought their own property which needed a lot of renovation, and at the time of his death he had only just recently completed the renovations of the marital home.
Lizzie still lives in the house today. They had hoped to have a family together, but Lizzie suffered a miscarriage and Hillsborough cut short any chance of them having their family.
Christopher was caring and gentle. When I was widowed in Christmas 1986 and had to relocate back to the UK from Germany with two children, he supported the children and I.
He also helped me to refit my entire home and our parents' kitchen, and he was planning to set up his own business with me renovating and selling homes. Unfortunately, this dream was short lived.
Christopher cared deeply for his family and he was a devoted husband. Lizzie worked unsocial hours as a nurse and Christopher would drop her and pick her up from work. When he couldn't make it, he made sure one of us did. He used to help out with an elderly neighbour who lived close by and assist our mum by taking her to the shops.
"Our brother Kevin had also been at the Leppings Lane End of Hillsborough for the semi-finals in 1988, and when he heard that the 1989 game would be there, he said, 'Oh, no, not that stadium again!'
Christopher tried to reassure his younger brother by saying, 'Don't worry, I'll be there with you.' None of them came home.
'Two missing chairs'
Even in death, Christopher was a caring and genuine person. He was identified as the person who saved the life of Norman Langley, who stayed in touch with our family until the early 1990s and has re-contacted our family since the inquests have begun.
Our brother Paul and I were buying furniture when we heard what was happening at Hillsborough. We left half the furniture at the store and never went back.
Until this day, there are still two missing chairs on my patio; a constant reminder that we lost Christopher and Kevin on that day.
Christopher was only 26 when he died. I speak for his wife Lizzie Traynor, my remaining siblings Paul and John, the extended family and myself when I say his passing left a huge gap in all our lives.
Albeit his life was so short lived, it wasn't the amount of breaths he took or his amazing take on life and the number of breathtaking moments he lived for; albeit on this occasion, it took his breath away forever.