RAF veteran pilot Tony Iveson remembered at service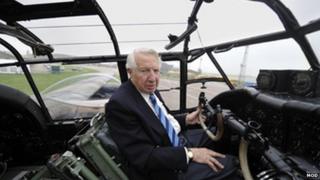 A memorial service has been held for Battle of Britain and Bomber Command veteran Tony Iveson who died in November, aged 94.
Sqn Ldr Iveson, who was born in York in 1919, flew Spitfires during the Battle of Britain.
He later piloted a Lancaster bomber in the attack on the German battleship Tirpitz and was awarded a Distinguished Flying Cross (DFC).
The service was held at the RAF Central Church, St Clement Danes, in London.
Tirpitz was a sister ship to the Bismarck, and was threatening Allied convoys to Russia.
Sqn Ldr Iveson was piloting one of the Lancasters of 617 Squadron, already famous for the Dambusters raids.
Using five-tonne bombs designed to pierce the ship's armour, they managed to put enough holes in its hull that it rolled over and partially sank.
Recalling the raid in 2011, he told the BBC: "The first nine bombs that went down in 90 seconds, two were direct hits and three were near misses.
"That 56,000-tonne battleship didn't have a chance."
After the war he worked in broadcasting and public relations and also appeared on radio show Desert Island Discs reflecting on his wartime service.
He also campaigned for a permanent memorial to the 55,000 Bomber Command aircrew who died on active service.
The memorial was finally dedicated by The Queen in London's Green Park in 2012.
His niece, Philippa Iveson-Daley, said: "He is to be admired for his bravery, passion and most of all his humility; he touched the lives of everyone that knew him and will be missed by all."