Police Taser use doubles across southern England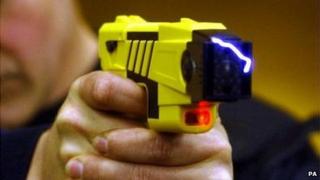 Taser use by police forces in the south of England has more than doubled between 2012 and 2013.
Officers in Hampshire, Dorset, Surrey, Sussex, Wiltshire and the Thames Valley drew the devices 998 times compared with 433 in 2012 while they fired them 192 times compared with 155 times.
It has also been revealed a 14-year-old girl was Tasered in Surrey, and the devices were used 15 times on dogs.
Police said the rise coincided with a rollout to more officers.
Figures from the Home Office showed Sussex Police recorded the largest comparative increase in the country from 30 to 164 uses - a 447% rise, while the national average rose by 27%.
Ch Supt Paul Morrison, head of operations command at Sussex and Surrey police, said during that period the forces had extended use, which had been confined to its firearms teams, to an additional 163 frontline staff.
Shard of glass
"Although we have seen 164 uses... it's only been discharged 13 times. That's only marginally more than we had it just within firearms officers.
"[It shows] we're getting a high compliance rate - nearly 90%.
"We've now got officers... who can respond and deal with those issues immediately before they can escalate."
The senior officer defended the use of Taser on the teenage girl, revealed under a BBC South Freedom of Information request, who he said had made threats while armed with a shard of glass.
He said: "Taser was a low level of force, if you use restraints or baton strikes... they could have led to injuries."
It comes as forces across the region roll out Tasers to an increasing number of frontline officers.
Oliver Sprague, from Amnesty International, called for further clarity surrounding the circumstances in which the devices were being used.
He added: "[Tasers were introduced] to deal with incidents of life-threatening, or very serious violence from a safer distance, and the figures make it impossible to tell if police in the region are using the weapon only in these circumstances.
"Amnesty's fear is that wider deployment could lead to Tasers being misused for far more minor incidents"