Your views on England's worst ring roads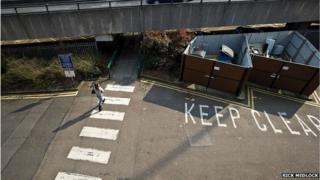 A recent BBC News England article about the ring roads we love to hate prompted several readers to contact us with their own tales of concrete collar woe.
Many readers agreed with the article, which highlighted Coventry, Sheffield and Redditch as being particularly bad, but others actually wanted to champion the ring roads they love.
Below is a selection of your comments.
"The article basically mentions them all with the notable exception of Leeds, a place you can't navigate with maps or sat nav - you just have to know," said Rob Buckland, who now lives in Sweden.
"The whole system is one big junction and every time you join a road you immediately have to be seven lanes to the right. Of course, you don't know this but everyone else does, which gives you no chance, and you get thrown down a tunnel and end up in Bradford or Wakefield."
Neil Godwin, from Bromsgrove, said Redditch ring road was one that had sprung to mind for him.
"I had a job as delivery driver," he said. "I used to tell people to just follow 'all other routes' on the signs and pray the place they wanted to get to appeared on one of them."
Steve Merry agreed. "Redditch - just ask Jasper Carrott," he said. The comedian famously complained of the ring road, "all the signs lead to Bromsgrove and I don't want to go there".
However, for Geoffrey McGill-Ryland, "Kidderminster is the ring road to hell.
"Unfinished, more roundabouts than a fairground and causes more traffic jams than it was meant to cure," he said. "Also, building it destroyed most of the town's character and heritage."
Coventry ring road, which featured in our article, certainly has its detractors.
Alison Meakin, from Bristol, said: "A number of years ago I worked at Coventry and Warwickshire Hospital in Coventry's centre.
"At least twice a week we would get panicked mobile telephone calls from car passengers who were coming to appointments at the hospital.
"The callers all said the same thing - they could see the hospital but couldn't find the way off the ring road and they were now going round for the umpteenth time.
"Unfortunately very few of us drove and the few that did didn't use the ring road or weren't able to come to the phone.
"It never occurred to us to write the directions down. We just kept the clinic open until our lost patients finally made it."
However, Coventry's intriguing design has also won it many fans.
"I LOVE Coventry ring road," Lynn Jones said. "It makes it so quick to get around the place."
David Krawczyk, from Coventry, said: "Coventry's ring road is so easy to use.
"If you carry on, you come back to where you started.
"It's well sign-posted. The problem is that bad drivers don't know where they are going."