Gas chief Andrew Austin: Fracking in East Midlands could provide 'big prize'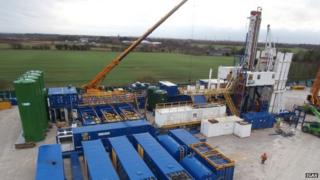 A British energy firm says up to 10% of the UK's gas supply for the next decade could come from shale gas produced in Lincolnshire and Nottinghamshire.
IGas, which already produces conventional oil and gas in the region, said it hoped to see up to 15 fracking sites in use over that period.
Spokesman Andrew Austin said: "That's a very big prize and something that will feed back into the local economy."
Opponents say that fracking causes pollution and can affect wildlife.
Fracking, or hydraulic fracturing, is a technique designed to recover gas and oil from shale rock.
15 sites
Mr Austin said in order to tap into reserves "we need to go through a process with our partners", which include French oil giant Total.
He said: "We need to work out how much gas is physically in the ground.
"After that, we need to make sure we can demonstrate these wells will flow."
He added: "In the best case scenario there may be up to 15 sites across Nottinghamshire and Lincolnshire within a 10-year time frame, which could be responsible for up to 10% of the UK's gas demand."
The estimates are based on figures from both the British Geological Survey and the Department of Energy and Climate Change, which put the UK's gas consumption at about 90 billion cubic metres a year.
The industry has been encouraged by Total's investment, which will see it take a 40% stake in two exploration licences in Lincolnshire, partnering with IGas, Dart Energy Europe, Egdon Resources and eCorp Oil & Gas.
But some environmentalists oppose the process.
Major protests against fracking have taken place in Balcombe, in Sussex, where more than 1,000 people set up camp in August 2013, and at Barton Moss near Manchester.
Some opponents are concerned that the process could induce earthquakes such as one that occurred near a shale gas operation in Lancashire in 2011.
Protesters have also said it encourages reliance on fossil fuels instead of putting more investment into renewable energy sources.
Groups including the RSPB, National Trust and Wildlife Trust have also called for more to be done to prevent fracking close to wildlife habitats.
Simon Pryor, National Trust environmental director, said: "The debate on fracking needs to be evidence based. The evidence from our research clearly reveals that the regulation of shale gas needs to be improved if it's to offer adequate protection for sensitive environments."
Some environmental activists say shale gas drilling activity, construction noise and the increased movements of vehicles are all likely to have adverse impacts on wildlife.
In response, Mr Austin said: "I think us, the planners and the regulators have a job still to do to give people the confidence that this is a well-regulated industry.
"We need to get our message across and ensure people can become comfortable about our activities - but there are a lot of myths out there," he said.
IGas has a Petroleum Exploration and Development Licence for the Gainsborough area, but has yet to drill any wells or apply for permission to start fracking in the East Midlands.
Fracking involves drilling down into the earth before a high-pressure water mixture is directed at the rock to release the gas inside. Water, sand and chemicals are injected into the rock at high pressure which allows the gas to flow out to the head of the well.