Whitsand Bay rare coral 'at risk from dredging'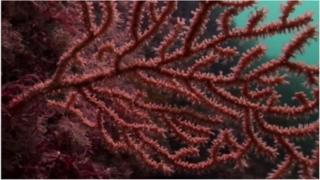 Environmental campaigners are calling for immediate action to protect coral found off the coast near Plymouth.
They say thousands of tonnes of silt dredged from Devonport Dockyard is at risk of overwhelming rare pink sea-fans in Whitsand Bay.
Silt dredged from the River Tamar to clear channels for warships at Devonport docks in Plymouth is dumped in the bay.
The Ministry of Defence (MoD) says the dredging is essential.
Millions of tonnes of silt has been dumped off Rame Head in Whitsand Bay over the years.
A new application has been lodged by Ministry of Defence contractors for a two-year licence to deposit up to 337,000 tonnes of silt at the dump site.
Campaigner Tony Steenhagen, who has written to the Marine Management Organisation (MMO) and Fisheries Minister George Eustice, said: "Pink sea fans were protected in Lyme Bay in Dorset when a large area was closed from dredging.
"What is the difference between Dorset and Cornwall?"
Marine biologist Dr Keith Hiscock, who has dived in the Whitsand Bay area, said: "Parts of the reef will have been completely submerged by silt now."
The MoD says the dredging is essential to its work at the dockyard and is licensed by the MMO.
The MMO said it would take action if it received evidence that the dumping was having a significant effect on the pink sea-fans, but it was not considering further investigations.