'Nationalise coal' call over Kellingley and Thoresby closures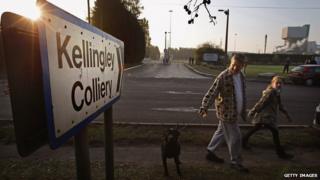 The National Union of Mineworkers (NUM) has called for the coal industry to be re-nationalised, as two of the UK's remaining deep mines face closure.
UK Coal is consulting on plans to close Kellingley in North Yorkshire and Thoresby in Nottinghamshire, with the loss of about 1,300 jobs.
Up to 100 jobs are also likely to go at UK Coal's head office in Doncaster.
NUM General Secretary, Chris Kitchen, said coal "should be run by the country for the benefit of the country".
If the two sites close, it would leave employee-owned Hatfield colliery in South Yorkshire as Britain's last remaining deep pit mine.
UK Coal, which owns eight pits and provides 8% of the total coal consumed in the UK, said it needed to raise £10m in investment "within weeks" to save itself from insolvency.
'Natural resource'
Mr Kitchen told BBC Look North the union was in talks with the government over a short-term commercial loan to rescue the pits.
But he said: "There is a real danger that Kellingley could be shut and the men made redundant before we have a chance to put a long-term plan together.
"There are some industries that do not work in the private markets purely because of the high capital expenditure over a long period - coal, along with electricity and rail, is one of those kind of industries.
"Coal is a natural resource, I think it's only right that it should be used for the benefit of the people and the country, not for private firms to make a profit."
The Shadow Home Secretary, Yvette Cooper, whose constituency borders Kellingley Colliery, said everybody needed to "work together" and not turn their backs on the coal industry.
"I think we can look for new private investment, for agreements with Europe and government support," the Labour MP said.
"We've had a lot of threats to close Kellingley many times in the past and we've fought against it every time.
"I think we can do it again."
The Department for Energy and Climate Change said it would not comment as it was "primarily a commercial matter".