Stonehenge man's missing falcon found on Isle of Wight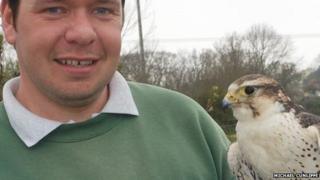 A bird of prey that was "days from death" after going missing in Wiltshire is to be reunited with its owner having been rescued on the Isle of Wight.
Zazu, a male gyr-peregrine cross, went missing from Stonehenge on 22 March when it chased a crow.
After ten days its owner, Mike Gale, received a call to say his falcon was 60 miles away in Ventnor.
It had been rescued by Steve Hain of White Falconry, who nursed it back to health.
Mr Hain said: "A member of the public called, saying she could hear bells.
"One of our friends went out there, he's a falconer, so he used a lure to bring the bird in."
'Weak and hungry'
After spending an hour contacting other falconers on the island, Mr Hain tried the Independent Bird Register, which helped him trace Mr Gale.
He said: "It's lucky for Mike that he registered the bird - a lot of people don't because it costs money."
The bird, which had removed its transmitter, was very weak and hungry when it was found.
Mr Hain said: "He had quite a mucky beak, which tells us he had been eating bugs. He had a cut on his leg so he was must have been attacked by another bird.
"We spent the last week giving him fluids and wet food. He's had a bath and we've been keeping him warm.
"I reckon he would have been dead in a day and a half had we not found him."
Mr Gale, who adopted three-year-old Zazu eight months ago, said: "I'm rather attached to him.
"I thought I'd never get him back, to be honest."