Midlands Air Ambulance shows off first owned helicopter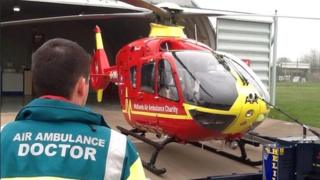 An air ambulance charity, which says it covers the largest geographic area in England, has unveiled its first fully-owned helicopter.
The Midlands Air Ambulance previously leased its three helicopters.
It operates across six counties, with an estimated population of 5.5 million, during daylight hours but now plans a night-time service.
The air ambulance base at RAF Cosford, near Wolverhampton, has been adapted to provide overnight quarters for crew.
'My life was saved'
The charity covers Gloucestershire, Herefordshire, Shropshire, Staffordshire, Worcestershire and the West Midlands.
It uses additional bases at Tatenhill, near Burton-upon-Trent, and at Strensham Services, near Tewkesbury.
The new EC135 helicopter cost £4.5m. It replaces one of the leased fleet, so the charity will continue to operate three aircraft.
Lis Berreen, from Wolverhapton, is one of thousands of people helped by the service.
She was the victim of a hit-and-run at a pedestrian crossing and said: "There is no doubt in my mind that my life was saved by the air ambulance crew.
"Time was of the essence and I didn't have time to get to hospital by land ambulance in rush hour, in a city centre."
Ms Berreen spent more than six weeks in hospital. "I was told my injuries were similar to those of someone who had been involved in a bomb explosion," she added.
Midlands Air Ambulance is now fundraising to pay for extended hours, equipment and training for night flying.
Currently it operates up to 12 hours in summer months and eight during winter.
A spokeswoman said: "The extra funding will enable the service to attend more incidents into hours of darkness on a daily basis, ultimately helping to save more lives across the region."