Five people die in Calais attempting to enter UK illegally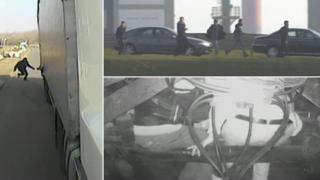 An MP has called on politicians in Calais to crackdown on illegal migrants trying to enter the UK after five men died trying to climb on to trucks.
Mark Reckless, MP for Rochester and Strood, said borders needed to be "secured" to stop people taking risks.
The BBC has learned that five people have died in the past two months.
It follows an investigation by BBC South East Today which revealed some migrants sit on the axles of lorries in a desperate attempt to get to Britain.
Mr Reckless said: "We need to secure the border, because the worst thing we could do is let up our guard.
"If it was possible for these refugees, asylum seekers or economic migrants to come through more easily, that would attract more, including those willing to put their own lives at risk."
'Not doing enough'
Secret night-vision cameras installed by the BBC captured men running towards trucks and climbing beneath the vehicles, with drivers oblivious to their actions.
The deputy mayor of Calais, Philippe Mignonet, who was re-elected over the weekend, said he was keen to do something to prevent the migrants jumping onboard the trucks.
He said he was trying to arrange a meeting with the French national government, where he intends to call for more police to alleviate the situation in Calais.
He added that the French government was "not doing enough".