West Yorkshire Combined Authority's £1.6bn transport plan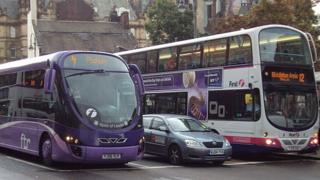 Up to £1.6bn will be spent on improving transport infrastructure across West Yorkshire in coming years by a newly-formed authority.
The West Yorkshire Combined Authority, a group made up of local councils, began work in charge of transport and economic development on Tuesday.
The councils of Leeds, Bradford, Calderdale, Kirklees, Wakefield and the City of York will now work together.
Chairman Councillor Peter Box said the region would speak with one voice.
York is part of the West Yorkshire group because of the "economic inter-dependence" between the city and its near neighbouring area, an authority paper discloses.
Metro 'dissolved'
Combined authorities - which do not replace any existing ones - can be set up when two or more local councils want to work more closely to support economic growth in areas such as skills, transport and investment.
In West Yorkshire it will mean the Passenger Transport Executive, Metro, will be dissolved.
Metro said transport across the region would now be under the control of the new authority, although public bus stops and signs would not alter.
The authority will also be able to negotiate future funding from Whitehall to promote economic growth.
In a statement, the authority said: "Resources and decision making powers devolved from government to the region will include the West Yorkshire and York Transport Fund - a programme of strategic investments in transport infrastructure worth up to £1.6bn over 15 years."
Wakefield Council leader Peter Box, who will chair the West Yorkshire Authority, said: "There have been traditional rivalries not just between districts, but within districts.
"The time has come now to acknowledge we are an economic entity of our own and, that being the case, let's make sure that we are smarter in using what limited resources are available.
"Let's also make sure that we continue to argue with government - we get more."
Steve Leigh, head of policy for Mid Yorkshire Chamber of Commerce, welcomed the new authority.
He said: "The combined authority will bring a new and exciting income stream into our region which will allow economic development not seen for many years."