Simon Martindale Ambleside river death an 'accident', inquest rules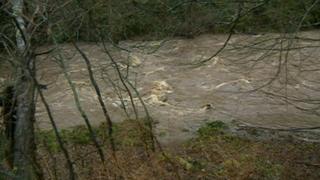 An inquest has heard a man was swept down a flooded Lake District beck faster than people could run after him.
Simon Martindale, 48, from Hest Bank, Lancashire, was found shortly afterwards floating in Windermere.
The South Lakes coroner Ian Smith ruled Mr Martindale's death was an accident.
The hearing in Kendal heard Mr Martindale was walking his dog in Rothay Park, Ambleside two days before Christmas. Storms had left rivers high and some areas flooded.
No one saw how Mr Martindale, a teacher at a school in Morecambe, got into Stockghyll Beck.
Witnesses, including a trained lifesaver, said they had heard a shout and saw the dog and then Mr Martindale being swept unconscious down into the River Rothay.
The dog then made it ashore, the inquest was told.
Mr Smith said the lifesaver, Lesley Finnegan from the Wirral, was right not to go into the water, saying he would undoubtedly have been holding two inquests if she had done so.